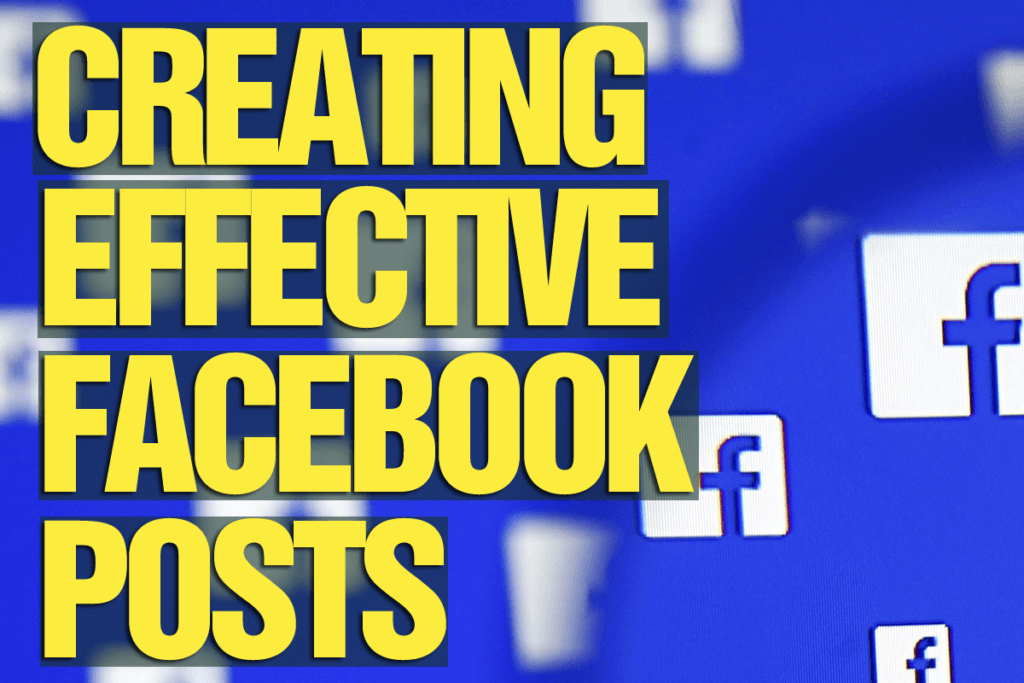 How To Create Effective Facebook Posts
The biggest challenge for any business using Facebook pages these days? Creating Facebook posts that get noticed and get shared.
So we've created a four-part online training course that tackles this problem head on, identifies the secrets of effective Facebook posts and shows you exactly what you need to do to stand out on Facebook.
This short course covers:
Lesson One: The Changing Facebook Environment
Why do you need to change the way that you do business on Facebook? In this lesson we examine Facebook's changes over the last several years and why they have direct implications for marketers.
We explore why those changes are actually good news.
We review Facebook's latest guidelines for business pages.
And we learn what a 90-year-old book can teach us about effective social media posts.
Lesson Two: Best Practices for Facebook Posts
What exactly should you be talking about on Facebook? In this lesson we discuss best practices and share compelling examples of effective Facebook posts.
We examine the most engaging Facebook posts and discuss ideal lengths and formats.
We talk about Last Actor Engagement and what that means to you.
And we recommend how to shape effective Facebook posts.
Lesson Three: Viral Success Secrets
What really works on Facebook? We spell out the characteristics of successful Facebook posts. We identify 20 different posting formats that get noticed and get shared.
Then we review the types of posts worth sharing, accompanied by a wide range of examples, including:
The hotel chain that has twice as many people talking about it as the chain has followers
The radio station that has truly mastered the art of Facebook
Examples of posts that really tug at the heartstrings
The Facebook page that had 247,756 Facebook likes but managed to get 775,600 people talking and 160,000 people sharing
Practical posts that get people sharing
And many many more.
Lesson Four: Facebook Video
Did you know that Facebook loves live video – and gives it top priority when it comes to sharing?
Video is central to Facebook's vision for the future of the platform. In 2014 CEO Mark Zuckerberg was quoted as saying "In five years most of Facebook will be video". Facebook has been working hard in 2016 to cement that vision, especially in the areas of live video and VR.
In this lesson, we discuss exactly what you need to know about Facebook video, including:
How much more likely people are to watch live video on Facebook (compared to video which is not live)
The dramatically-increased performance of Facebook video posts compared with photo posts
Why live video matters to marketers
The perceived benefits (and barriers) of live-streaming video and how live streaming is currently being used by businesses
Ten effective ways in which live video can be used by marketers
Success secrets of online video – including the exploding watermelon video that reached more than 10 million people
The key steps you need to take to ensure you are making effective use of Facebook Live
WHAT TO EXPECT FROM THIS COURSE
By the end of this course you will know how to create the most effective Facebook posts for your organisation.
TIMING
This course begins on Wednesday 07 March, 2018.
————————
INVESTMENT
This four-part online training course is available for $397 +GST. However we offer an Early Bird Discount of $100 +GST — pay just $297+GST for bookings received by Wednesday 28 February, 2018.
Bookings are confirmed on receipt of payment, which can be by bank deposit or credit card. We can raise an invoice in advance if you need it.
To reserve your place in this course, please pay by credit card through PayPal by clicking here:
If you would prefer to pay by bank deposit, or require an invoice, please send an email to [email protected] with your requirements.
WHAT HAPPENS NEXT?
You'll receive our emailed confirmation of your booking. Then on the first day of the course we'll follow up with details of your Login and Password, along with an Enrolment Key for your online training course.
If you have any questions, or would like more information, please email us at [email protected]