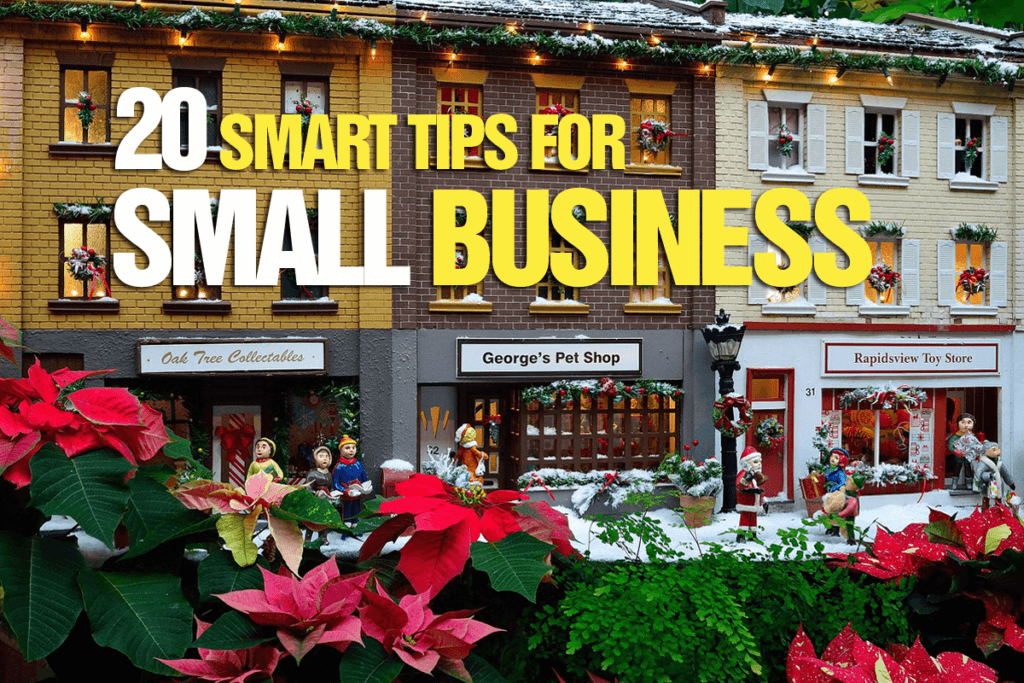 As you're no doubt well aware after all the recent hype, in the US last Friday was known as Black Friday (supposedly because it's the day on which retailers finally get into the black for the year). It's also the day that retailers launch major sales and the crowd goes wild (with apologies to Prime TV).
Less well known is that the day was immediately followed up by another invented special event, Small Business Saturday. Wikipedia explains:
First observed in Roslindale Village, Massachusetts on November 27, 2010, it is a counterpart to Black Friday and Cyber Monday, which feature big box retail and e-commerce stores respectively. By contrast, Small Business Saturday encourages holiday shoppers to patronize brick and mortar businesses that are small and local.
Oh yeah, and Small Business Saturday is a registered trademark of American Express corporation.
Small Business Saturday hasn't really made any impact down our way, but in the US there's a steadily-growing movement (by small businesses) to exploit the event as much as they can. To that end, the usual commentators have published various tips to help small businesses take advantage of the event.
We're not advocating that you adopt Small Business Saturday here — but some of the tips make good business sense on any day, in any market.
So, without further preamble, here are twenty hot tips for bricks-and-mortar small businesses.
Firstly from Entrepreneur Magazine:
Get web ready
Don't forget the easy stuff. Make sure your address and contact info is correct on your website and all your social media profiles. You'd be surprised how many small businesses forget to update all their accounts as their business evolves — and busy shoppers might not know you've opened a new location or have new hours.
And while you're at it, review your site as if you were a customer, ensuring that all promotions are prominently displayed and that your payment process is working properly.
Prioritize customer service.
Re-train your staff to make a good impression. Your ability to connect with customers and create more personalized experiences can help you stand out amongst competitors. According to a 2016 study, although people continue to shop online — nothing beats an in-store experience, so make sure yours is one to remember. Run through scenarios that might occur at your store during a busy weekend and give your staff the tools they need and the words to say to solve problems and help customers who might not have visited your store in a while.
Don't compete with the Big Boxes
You might be tempted to slash prices 'Black Friday-style' — but don't. Doorbusters might work for major retailers like Walmart and Target, but that doesn't mean your small business should do the same. Marcus Lemonis, the host of CNBC's The Profit, advises small business to stay away from Black Friday-style deep discounts. Instead, remember your market is coming to you for a different reason — to support local businesses.
Join forces
Work together with neighboring shops to give shoppers more reasons to visit. In South Dakota, Downtown Sioux Falls offers a number of deals, freebies and experiences throughout the town — such as free cups of espresso and a special art market — encouraging shoppers to make a day of the sales event and explore the downtown.
By joining forces with other merchants, you'll likely get free promotion throughout the city, simply for registering as a participating business. Find out what your local community has planned and be part of it. Those relationships can help you throughout the year.
Invite a local celeb or official
Last year, President Barack Obama dropped into a local bookstore on Small Business Saturday and even shopped at a local popsicle shop in our nation's capitol. While not all shops can get the president into their store, consider inviting other local officials who might make your shop into an impromptu photo opportunity. And don't forget other local notables, such as local authors, creatives and even pageant winners who might be flattered and excited to drop by if you make them feel welcome and special.
Support local charities
Customers love knowing where their money's going — especially if it is for a good cause. Bubbly Paws, a dog grooming and retail spot in Minnesota, had big success on Small Business Saturday last year thanks in part to promotions and partnerships with other local shops, but also because it dedicated a portion of its sales to a local dog charity. The company saw a major uptick in sales and found that customers were motivated to shop and happy to know their money would help dogs in need as well as their community.
Utilize social media — and hashtags
Tell your store's story on social media. Document your preparation for the big day and get your customers rooting for you. Take photos of your displays to whet appetites and on Saturday share images of your fastest selling products and the ways excited customers are enjoying your store. And don't forget to add specific event hashtags to accompany your posts.
Update your advertising
Go Digital Marketing recommends small businesses update their PPC (pay per click) keywords to make sure their company name hits the top of customers' searches. Change the keywords to reflect your most up-to-date offers and promotions, as well as your location.
Reward check-ins.
To get customers to spread the word about your small business to their friends, ask them to check-in through social media. Offer discounts or promotions for those who show they've checked in on a platform like FourSquare, Yelp or Facebook. A 2015 Nielsen study found that 83 percent of people surveyed found they trust the recommendations of their friends.
From Vertical Response:
Create a memorable experience
Your personal touch is what makes your business special, so highlight it! If you have a bookstore, hold a reading. If you are in the food/beverage industry, host a tasting. Make your Small Business Saturday experience memorable so customers will think of you the next time they're making a purchasing decision. Lastly, don't discount the importance of writing "thank you" notes to everyone who made your Small Business Saturday special. Set up an email campaign to your customers on Sunday to say "thank you" and "we appreciate your support/business," or even drop handwritten "thank you's" into shopping bags with each purchase. Your customers will remember it, and it gives your business a personal touch that differentiates you from larger competitors.
From Forbes:
11.Make a photo collage.
Doug DeVitre (author of Screen to Screen Selling) suggests you make a photo collage of the influential people in the community who've visited your business. You can post the pictures online and share information about what the prominent customer purchased or enjoyed most about their visit.
Alert the media.
Be sure to take photos of the event and send an after-event press release to news outlets who cover small business or local retail. For an online store, use photos of your employees packing and shipping the goods. Make sure the coverage you pitch will compel readers to come back to see you during the continuing season. Remember that the best win of all is a new set of customers who will bring you business during every time of the year.
From ReachLocal:
Capture & Nurture Small Business Saturday Leads
To ensure that your efforts around Small Business Saturday continue to pay off throughout the year, make sure to capture the email address of everyone who visits your business so that you can nurture your leads and continue to share offers, specials, news, and insights with them. Make sure you're capturing leads from your website through call tracking and web forms. Have visitors to your business sign up to receive emails from you and then hold a giveaway to all subscribers. Make sure to document the email addresses and then input them into your system, or use a tablet to have people directly submit their email into a form so you can upload them later.
From SmallBizTrends:
Get a little artsy.
Retail store owners, hire a local artist to paint your store display windows with nostalgic holiday scenes that evoke emotion for the holidays.  You'll be helping your business and supporting another!
From Business2Community:
Share Stories on Social Media About Helping Your Customers
While various social media channels offer platforms to advertise your business, it's important to also have an approach that doesn't involve just trying to drive revenue. Make your business's brand more personable by creating posts that feature actual customers you're helping with your service or products. Reach out to customers you've developed close relationships with and ask if they can provide testimonies to include in your posts. You may already have videos, blog posts, or testimonials of satisfied customers, which you can use now. [If you're not comfortable with Social Media, check out the courses on this website]
Showcasing stories about your customers helps position your business's involvement in supporting the local community, which is what Small Business Saturday is all about.
Make it Known If You're a Family-Owned & Operated Business
Since one of the biggest draws of Small Business Saturday is supporting local communities, describing your business as being family-owned and operated is a great way to distinguish yourself from larger corporations, chains, and franchises. Consumers need to know the businesses they're choosing to support are actually small and locally owned. This isn't to say that larger companies can't be run by families, but this movement is focused on you.
Tap into the sentiment customers have for supporting family-owned businesses by creating new text ads for your search engine marketing campaigns, display banner advertising, and updating the header on your website. You don't need to come up with anything flashy or snappy, just make sure you mention it as a bullet point. "Family-Owned and Operated," will work just fine. It's also important to make sure you have an "About Us" page that gives at least a brief history about your business, especially if it's been passed down through multiple generations.
From Pagemodo:
17.Schedule your posts and tweets in advance
You're going to be one busy business owner on Small Business Saturday and the days leading up to it. Make sure you don't miss your chance to engage your fans and followers because you're too busy to post updates. Schedule all your tweets, statuses, and photos in advance and know that it's taken care of when things get hectic.
From DB Squared:
Serve Up Unique Holiday Items
One of the advantages independent businesses have over big box retail and chain stores is the ability to stock one of a kind, unique items year round. This is an advantage you should strive to capitalize on during the holidays, especially.
In order to get the attention and word of mouth marketing of not only new customers but your regular customers, you need to change things up during the holiday shopping season in order to boost sales of gift cards or gift certificates, holiday decorating wares of holiday gift inventory.
This would be a great time to partner with local independent artists, craftsmen, screen printers and other professionals in your community to come up with holiday gift giving ideas that have a local twist or feature the designs or work of local independent artisans, hobby enthusiasts and craftsmen.
Serve Up Reasons to Bounce Back
Use online marketing and the point of sale to capture customer contact information so that you can extend a bounce back offer in the New Year (or even another offer during the holiday season).  And be sure that you punctuate each point of sale experience by extending a reward redeemable at their next visit or in the New Year.
And one last thought, again from Entrepreneur Magazine:
Think beyond Saturday.
Although it's important to utilize Small Business Saturday to boost sales and drive traffic — but your thinking should go beyond this day of shopping. Stores in Alexandria Virginia plan to offer random acts of holiday cheer, a series of deals that are available throughout the holiday season, past Nov. 26.
After the holiday season has ended, take stock of what worked and what didn't. Chances are, many of these strategies can be repurposed beyond the holiday season, allowing you to strengthen the relationships you created with customers and partners all year long.