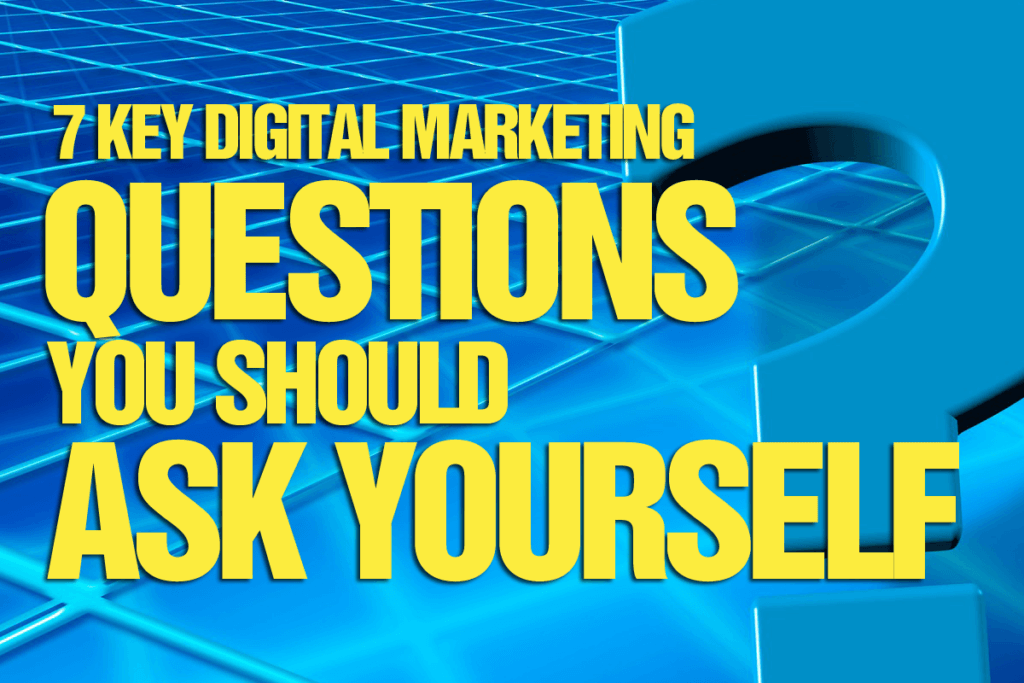 As we prepare to get stuck into 2017, here are seven key questions you should ask about your digital marketing.
Firstly, from Co-Factor:
1 ARE YOUR PERSONALISATION EFFORTS REALLY GOOD ENOUGH?
30% of US marketers have a personalisation strategy in place, but are struggling to align intelligence, content and channels with the customer whilst 23% are "a long way" from being able to deliver those experiences in real time (Customer Experience Board/CMO Council)
2 HOW EFFECTIVE ARE YOUR MOBILE ADVERTISING INITIATIVES?
84 percent of all mobile advertisers believe the experience they provide to consumers is positive, while less than half (47 percent) of consumers actually report feeling their mobile advertising experience is a positive one. (Unlockd)
3 SHOULD YOU BE SPENDING MORE ON DIGITAL VIDEO?
41 percent of agency and marketing professionals hesitate to increase spending on digital video advertising due to the perception that the ROI is lower than any other form of media. Additionally, another 40 percent report that the ability to deliver quality content is an obstacle. (The IAB)
From AdWeek:
4 ARE YOU REALLY, REALLY MOBILE-READY?
Netsertive, a digital intelligence company, released a study this week that found that only 3 percent of marketers think local retailers are prepared to target their mobile customers.
5 SHOULD YOU ADVERTISE ON INSTAGRAM OR ON SNAPCHAT?
Adweek commissioned a survey from Survata that asked 511 Instagram and Snapchat users ages 13 to 34 how they feel about the apps and their impressions of the ads. Two of the more fascinating findings: just 26 percent of respondents remembered seeing specific Snapchat ads, while 37 percent remembered seeing specific Instagram ads.
6 SHOULD YOU USE LOCATION-BASED TOOLS SUCH AS BEACONS?
Only 22 percent of merchants are using in-store, location-based technology, per a study from PointSource. Yet (per Co-Factor) retailers see a 7 times lift in in-store visits when they use mobile location-based ads. (YP Marketing Solutions)
eConsultancy adds:
7 ARE YOU CREATING THE MOST EFFECTIVE TYPES OF VIDEO ADS?
New UK research from Groundbreak Productions has uncovered the kind of video adverts that are most likely to make consumers spend money. From a survey of 1,000 UK consumers, 42% said that they like video ads that are informative and 'to the point'. Consequently, 22% would be more likely to buy a product after watching one.
In terms of the biggest spenders, the report suggests that ads have more an effect of millennials, with one in five being more likely to purchase a product or service after watching a video ad. This is compared to 12% of 45-54 year olds, 13% of 55-64 year olds and 6% of those aged 65 and over.
Interestingly, just 8% of consumers say they are receptive to celebrity-endorsed ads, with only 3% being more likely to purchase after watching one.
So what other questions should NZ marketers ask in 2017?
When you're planning 2017 marketing, you need to take a look at what to expect next year, so that you can make appropriate arrangements.
We've looked ahead at what marketers should expect and plan for in 2017, across a wide variety of industries and technologies — based on local and global trends you may not yet have had the opportunity to examine — and we're turning those forecasts into a comprehensive NZ MARKETING INSIGHTS FOR 2017 report & slide deck in PowerPoint format (with accompanying notes) – information that you can easily present to your team and your clients, bringing everyone up to speed on the latest New Zealand marketing insights as we accelerate towards 2017.

This comprehensive slide deck, with accompanying notes, consists of at least 200 slides covering:
The latest NZ research and statistics, and what they mean for New Zealand marketers
Local and international television trends and comments
The changes impacting NZ newspapers and their implications for marketers
Is Small Data the new Big?
Magazine news and trends
What you need to know about Radio for 2017
The very latest on Facebook, LinkedIn, Twitter, Pinterest, Instagram, Google Plus and other key social properties
The new popularity of Slack, Yammer and Facebook At Work and what they mean for businesses
Programmatic advertising explained and explored
Online video – how can you take advantage of this seemingly unstoppable trend?
Wearables: fad or threat?
Messaging Apps reviewed and implemented
Context brokering and smarter business decisions
Loyalty program evolution and opportunity
Smart Data Discovery and analytics enhancements
Google Assistant, Siri, Cortana and the new breed of AI mobile support
Is your content really mobile-savvy?
How can you use AI?
Drones and their promotional potential
The latest on the Internet of Things
Blockchain and its marketing uses
Emerging technologies such as Smart Dust and 4D printing – and why you should be getting ready for them now
There's plenty more, covering old and new media, insights and analytics, strategies and tactics – but we think you get the idea.
The "NZ MARKETING INSIGHTS FOR 2017" report and slide deck is NOW AVAILABLE, HOT OFF THE VIRTUAL PRESS. GRAB YOUR COPY TODAY!
RRP for "NZ MARKETING INSIGHTS FOR 2017" is $497+GST.
If you would prefer to pay by bank deposit, or require an invoice, please send an email to [email protected] with your requirements.