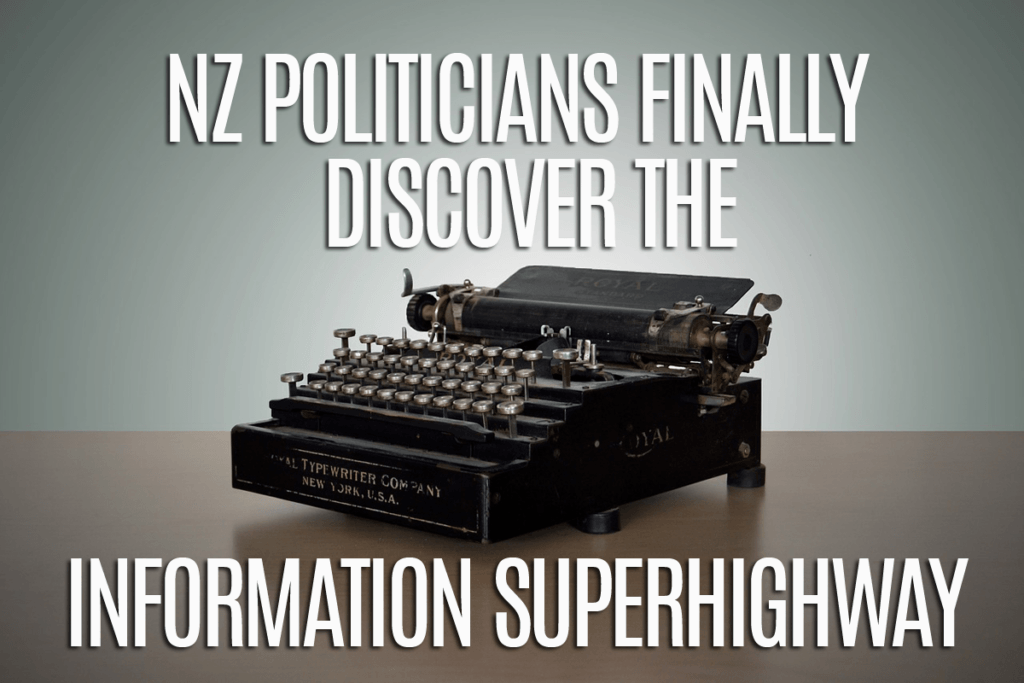 For decades, NZ electoral allocations — money provided by the Government to fund political advertising in the lead-up to general elections — have been legislatively restricted to paying for "broadcast" advertisements — defined in law as radio and television advertising (and the production thereof).
In a dramatic turnaround, a mere thirty years after the Internet arrived in New Zealand via CompuSerce, the politicians last week (March 15) saw fit to allow electoral funding to encompass Internet advertising as well.
As the Broadcasting (Election Programmes and Election Advertising) Amendment Bill (approved by 108 votes to 12 and now just awaiting Royal Assent to become law) notes, public monies may now be applied to fund radio and television and also:
all or part of the publishing costs incurred in relation to the publication of election advertisements on the Internet during the election period; and all or part of production costs, whenever incurred, in relation to election advertisements published on the Internet
Politicians (and their advertising agencies) should now brace themselves. Inevitably, they can expect to be inundated by approaches from any and every New Zealand digital medium, now that there's a bucket of money just waiting to be spent.
(If that's you, may we recommend you familiarise yourself with some of our online training courses, which will help you to understand the most effective ways to use digital media).
Opening & Closing Broadcasts Gone
The revised legislation also removes the compulsion on Television New Zealand and Radio New Zealand to screen opening and closing broadcasts.
Finally.
As Chris Hipkins (Labour—Rimutaka) noted during the debate about the legislation:
"When the rule around opening and closing broadcasts for election campaigns was introduced, there were two TV channels in New Zealand—only the two. If you were sitting at home watching TV and the opening and closing broadcasts were broadcast on both of those channels, as they were back in those days, you had no choice other than to watch them or turn off the TV. The reality now is that that is simply not the medium any more. People can be watching live-streamed content on Netflix, they can be using MY SKY or any other type of device, they could be watching all sorts of other things, or they could be accessing content via social media.
"The idea that we have these opening and closing broadcasts, which are expensive to produce because they are quite long-form and very few people watch them, and the idea that we should lock that into law and lock political parties into spending some of their broadcast allocation to do that simply does not make sense. It is not good for the broadcasters either. Let us be really frank about this. TVNZ had 25 percent fewer viewers in the timeslot that it set aside for the opening and closing broadcasts at the last election campaign [in 2014] than it would normally have had during that timeslot."
Welcome to the 21st Century, esteemed leaders. Glad you could join us.