According to SimpliLearn, Influencer Marketing (using influencers to promote your brand) is the most effective customer acquisition channel of all.
That makes perfect sense in today's social-centric, famous for 15-megabytes world – if you're an influencer with a community who dwell on your every word, you can gently encourage your fans to follow your advice and buy the products you recommend. Think Oprah Winfrey, but on a very small scale.
However, unless you're already a world-renowned YouTuber, Instagrammer or Tweeter, chances are that you don't have many following you.
Instead, you're going to want to track down key influencers relevant to your market sector, so that they can share your brand messages with their devoted followers.
Whilst there are a few tools such as Klout and PeerIndex that track influencers, they're inevitably US- or UK-centric and aren't particularly useful for identifying NZ digital celebrities.
So how exactly do you find local heroes-with-a-following?
A. Traditional Media
We would be remiss if we didn't first point you in the direction of good old-fashioned Kiwi print and broadcast media. The media world may be in transition but newspapers, magazines, radio and television still have more readers/listeners/viewers than their digital counterparts.
The barriers between church and state (i.e. journalists and advertisers) is lower than it ever was — note, for example the prominent position of the "Brand Insight" native advertising section on the front page of nzherald.co.nz — but as the wall comes down, prices go up.
It's no longer so difficult to get journalists to write about you, as long as you're willing to pay. If not, then the barriers are as high as ever.
B. NZ Influencer Marketing Agencies
As you might expect, where there are buyers and sellers who don't necessarily know each other, intermediaries have sprung up to connect the two groups.
Here are some of the influencer marketing agencies that will help Kiwi marketers find and connect with Kiwi influencers:
Here's how Populr describes itself:
Populr is a world-class platform built to connect both influencers and brands looking to take advantage of influencer marketing.
What makes us different? Simple. Our purpose built platform works hand-in-hand with some of the smartest creative, digital and social media minds in the country to create effective marketing campaigns that will ensure your brand, product or service is part of the online conversation. We have the ability to produce a series of authentic conversations and content that's created, overheard, shared and interacted with on a mass scale across all major social media networks.
Populr is the largest influencer marketing platform in the country with over 1,000 movers and shakers from the biggest names in sport to actors, musicians, entertainers, through to bloggers and content creators. We work closely with brands to ensure they have the right mix of influencers, create the right conversations for their audience and ensure they're maximising their return on investment.
And The Social Club's self-description?
Our mission is to bring authenticity, consistency & transparency to Influencer Marketing.
Much of the inspiration for The Social Club came from our own experience within the industry. Coming from marketing and digital backgrounds, we had all worked extensively with both influencers and brands. We'd seen just how successful these collaborations could be, but we'd also all noticed just how much could be done to make the influencer marketing process more transparent, efficient & effective.
A lot of great stuff was happening, but we recognised that the process just wasn't quite right, and most people seemed to focus too heavily on large scale influencers, forgetting about the reach and connection that smaller, more localised influencers can harvest. So, over a beer and a few yarns, The Social Club was hatched, and here we are.
We're committed to helping New Zealand and global brands scale the storytelling process: by bringing efficiency, fairness & transparency to influencer advertising.
Our community of influencers are working alongside brands, as well as agencies, to help with brand awareness, new product releases, event promotion, sponsorship arrangements and subtly amplifying existing campaigns & competitions.
Whether you're representing a New Zealand household name or a local cafe, in Auckland or Te Awamutu, touch base with us and see how our community can help.
What you need to know about "We Are Anthology":
What is WAA?
We Are Anthology is more than just an agency, it's also home to thousands of leading lifestyle bloggers, vloggers and social influencers. The #WAAHouse is also a shared space we manage in Ponsonby. It allows us to have strategy, project management, content creation, and social media expertise in house, and to utilise the branding/graphic design, copy writing, photography, and PR companies that hang out with us every day.
Who is the WAA woman?
Meet the #WAA woman – or as we like to call her, the influenced mind. She's the digital and physical embodiment of our brand. She represents your target audience and how we use social media and influencer marketing to talk to, share with, and ultimately, influence the end user's mind to think positively about your brand, and perform an action from that influence.
And the Bloggers Club (now better known as BC.) description:
BC. is a social influence marketing and digital talent management agency. We work with brands to help them achieve their objectives, and create meaningful impact, through the use of digital channels and influencers.
BC. was started by digital entrepreneur, Jenene Crossan, in 2014 to provide support to the growing New Zealand blogging community. The moral and personal support Bloggers Club provided quickly expanded to include commercial support – Bloggers Club, the agency, was born. Nowadays, BC. still provides support to digital talent, assisting them to build their brand, creativity, professionalism, reach, engagement and commercial potential.
At the heart of everything we do are our values and purpose. Our purpose is to connect brands and people, we do this through building relationships. Our values speak for themselves, see them below or reach out to a team member to discuss how these impact you.
C. Social Media
Social Media, of course, is where most non-traditional Kiwi Influencers hang out. It's beyond the scope of this article to step you through how you can find Kiwi Influencers on Twitter, Facebook, Instagram and YouTube (although Lesson Eight of our Social Media Marketing Essentials course does just that). But we encourage you explore for yourself.
You'll also find out a whole lot more about NZ Influencer Marketing in our forthcoming presentation, Influencer Marketing 2017 (to be published September/October 2017):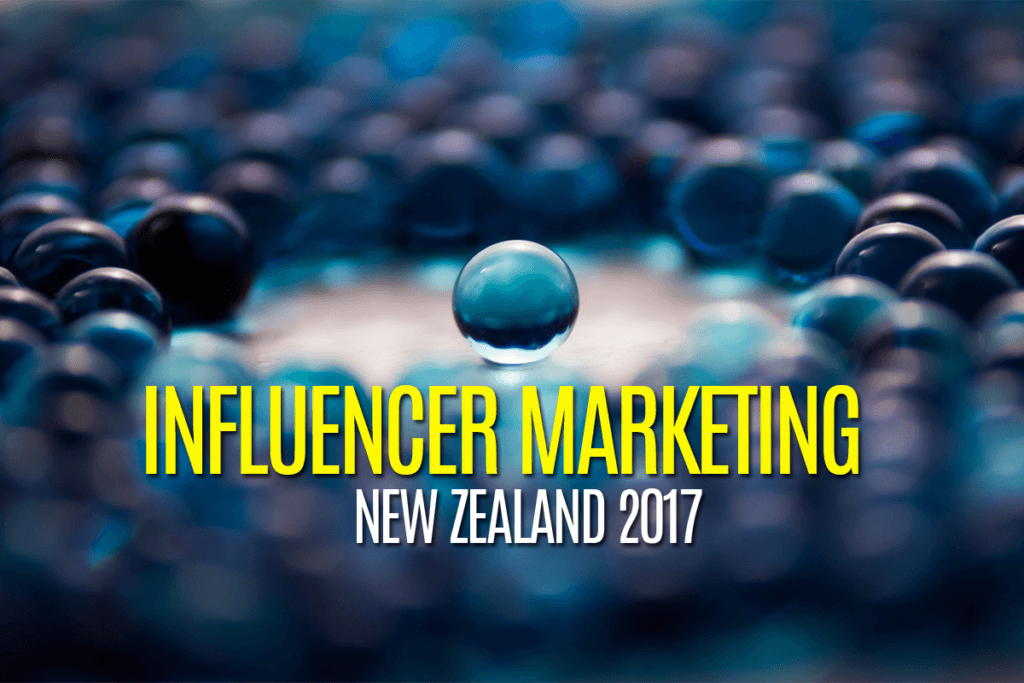 Our next special report/presentation deals with the fast-growing topic of Influencer Marketing.
If you're not sure exactly what Influencer Marketing is, allow TapInfluence to explain:
Influencer marketing is a type of marketing that focuses on using key leaders to drive your brand's message to the larger market. Rather than marketing directly to a large group of consumers, you instead inspire / hire / pay Influencers to get out the word for you.
Influencer Marketing has evolved from humble origins to end up as the preferred buzzword to describe the current iteration of a well-established and familiar marketing tool: using "celebrities" to promote your products.
There's a bit more to Influencer Marketing than just plunking a few celebrities into a TV commercial, however. Today's definition of "celebrities" (Influencers) has broadened to encompass those who are, in the words of Andy Warhol, "famous for 15 minutes".
At the same time, the number of celebrity followers that an Influencer might attract has shrunk from hundreds of thousands to, sometimes mere hundreds (whose celebrity leaders have been accordingly dubbed micro-influencers).
The Internet in general, and social media in particular, has brought us thousands of influencers and micro-influencers, whose hustling on behalf of a product can encourage many of their followers to actually purchase said product.
Why? Because, according to a report by Nielsen, 92% of people trust recommendations from individuals over brands. And, let's face it, many brands have brought that fate upon themselves by their own less-than-trustworthy behaviour.

Anyway, here's how Google Trends depicts Influencer Marketing's growth in search popularity over the last few years:
How hot is Influencer Marketing, really?
Here's one indicator: 84% of US marketers are planning to use Influencer Marketing this year (according to Acorn Influence).
So, to bring you up to speed with Influencer Marketing, we're producing this special presentation, whose topics include:
The Seven Most Effective Influencer Marketing Strategies
As it turns out, there's a bit more to Influencer Marketing than simply tracking down people who seem to have a lot of followers in social media. We share proven strategies which will help lessen potential heartache.
How to Choose the Influencers Who are Right for You
Not all Influencers are created equal (and there are more than a few pretenders to the throne out there). We discuss what to look for (and what to avoid) — and why you should proceed slowly as you assemble your Influencer team.
Best Practices on Connecting with Influencers
Once you've determined the most appropriate Influencers for your brand, it's time to reach out and connect. If you're not careful though, and haven't thought through the right approach, you might be turned down — or end up paying too much. We share lessons from others that will help ease the way.
Where and How to Find Kiwi Influencers
There are surprising numbers of influential New Zealanders who have attracted a wide following through their efforts on YouTube, Pinterest, Facebook, Instagram, Snapchat and elsewhere. We show you how to find them — and also sound a few cautionary notes.
In the Influencer Marketing NZ Presentation, we also examine:
the top Power Words to use
creative ways to incentivize influencers
Influencer Marketing measurement, KPIs & ROI
the four Rs of effective Influencer Marketing
how to run successful Influencer Marketing campaigns
what Google's purchase of Famebit tells us about the future of Influencer Marketing
why major players are now buying Influencers
Influencer Case Studies
Influencer Marketing Tools
why Influencer campaigns fail
the fastest way to destroy your Influencer Marketing efforts
twenty trends that will shape Influencer Marketing in the next year
All that and of course much more, in the Influencer Marketing NZ 2017 report and slide presentation, coming out in September/October.
The Influencer Marketing 2017 presentation looks ahead at what marketers should expect and plan for in 2017 and 2018 — based on local and global trends you may not yet have had the opportunity to examine — turning those forecasts into a comprehensive report & slide deck in PowerPoint format (with accompanying notes) – information that you can easily present to your team and your clients, bringing everyone up to speed on the latest New Zealand Marketing Insights as we accelerate through what remains of 2017. All presentations are unbranded, so you can add your own branding and comments.
All of our presentations in this Marketing Insights series consist of at least 150 slides, dealing with as many key insights.
Each Marketing Insights presentation is available to purchase and reuse, for $597 plus GST (with volume discounts available for purchases of multiple Marketing Insights presentations).
To purchase Influencer Marketing 2017 by credit card via PayPal, please click here:

BILLING OPTIONS
If you would prefer to pay by bank deposit or require an invoice before making payment, please send an email to [email protected] with details of your request. (The service provider will be shown as Netmarketing Services Limited in your transaction and on your credit card statement).
WHAT HAPPENS NEXT
Your purchase will be confirmed by email, usually within a few hours. Once the presentation is available (in September/October) download instructions will be provided to you by email.