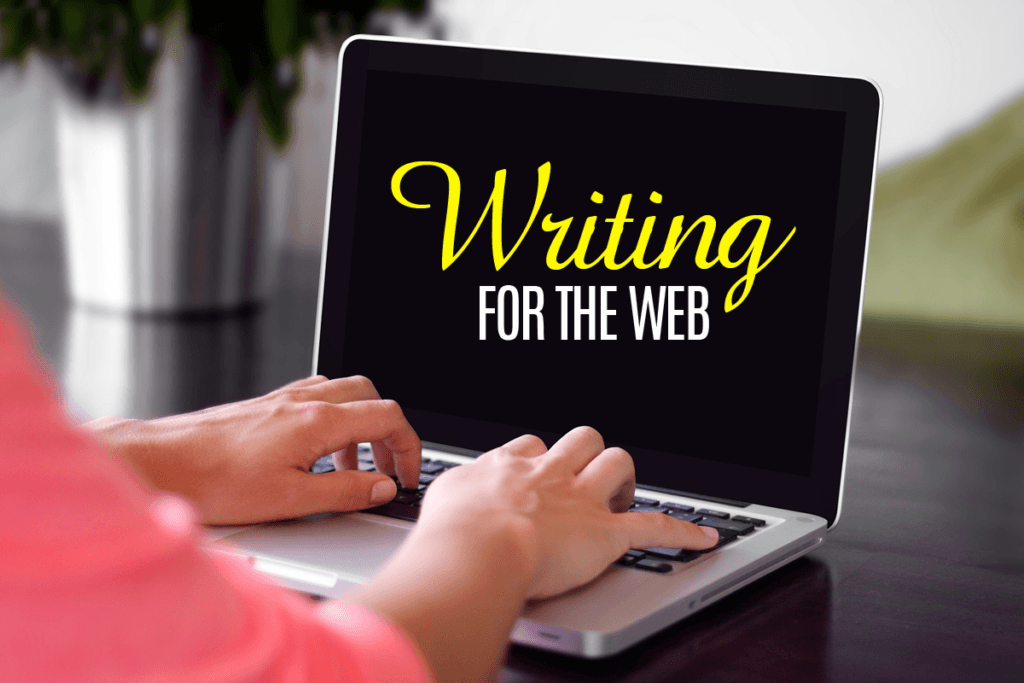 It has been apparent for some time that effective writing has become an absolutely core competency when communicating online. We've moved away from the pseudo-words beloved of text messaging and are now at a stage where true wordcraft is vital to communication.
Not just any writing, however. Different media require different approaches. The headline that might have looked wonderful in the newspaper probably won't fit within the constraints of Facebook or Instagram character counts.
And the few seconds that represent the average time-on-site for typical web browsers means that we simply don't have the luxury of indulging in long paragraphs.
Yes, writing for the web requires a whole different approach — and you can either learn that the hard way, by discovering it for yourself, or learn from us.
A couple of years ago, in response to this need, we developed a popular half day workshop to take marketers through the requirements of writing for the web.
Now, in response to demand from New Zealand businesses, we have repurposed that workshop as a full-blown online training course, complete with content that's been refreshed and updated to reflect today's needs.
Writing for the Web – online training course
Here's what the course covers:
Introduction
Why writing for the web requires different approaches to writing for traditional media (and how this course takes you through the key elements you need to know).
Lesson One: Understanding the Essentials
1. WHO
Who are You Writing To? Before you create a single sentence, you need to understand your target consumers — otherwise your words may be wasted.
In this part of Lesson One, we cover:
Profiling your ideal customers
Determining their motivations and attitudes
Reviewing their media habits
Understanding their preferred communications formats
Determining their needs & wants
Identifying their concerns, goals & challenges
Shaping your solutions accordingly
2. WHAT
What are you writing about? Take a closer look at your self and your organisation, so that your communications reflect exactly who you are. We review:
Understanding your brand personality
Staying true to your brand values
The importance of authenticity and credibility
3. WHERE
Where should you promote your products and services? Not all digital media are alike. For every Trade Me that has more than 700,000 visitors a day, there are a million websites that have 1 visitor or less. Don't waste your time putting your content where no-one will see it. Instead, take a look at this section of the course, where we discuss:
Selecting the most appropriate digital media vehicles
Reviewing the performance of your own digital assets
Evaluating traditional media website offerings
Determining the most appropriate social media options
4. WHEN
When are consumers most likely to be exposed to your messages? With consumers bombarded by messages all day every day, you need to know exactly when your followers are online and most likely to see what you've written.
In this section, we show you:
What you should know about your email open rates, by day and by time
How to identify when your Facebook followers are online
How to determine the most appropriate times to use messaging apps
5. HOW
What format(s) should you use for your messages? Not every format is equally popular. We explore which formats are right for your followers, and identify:
Average shares by content type
The most popular content formats
the importance of pictures
The runaway popularity of video
Lesson Two: The Content Formula
What should you talk about online? Too many organisations are too busy talking about themselves to even notice that their followers just aren't bothering with them anymore.
In Lesson Two, we share:
The content sweet spot
The seven attributes of effective content
Google's Zero Moment of Truth formula and why it matters to marketers
The new importance of listening
Seven consumer comment types and what they mean
Lesson Three: Keywords
How can you make your writing insanely popular? The answer, as you've probably guessed from the title of this lesson, is Keywords.
But not just any keywords. There's an Art and a Science to effective keyword usage, and in Lesson Three, we're going to tell you:
What you need to know about keyword search patterns
The importance of longtail keywords
The hotlist of buyer keywords
The essential knowledge that you can learn from the Google Keywords Planner
Lesson Four: SEO
How can you shape your content so that Google will notice that you exist — and will give you priority over your competitors?
Lesson Four tackles Search Engine Optimisation — more popularly known as SEO — from a writer's perspective, and tells you:
How to analyse your competitors' keywords
Best practices for optimising your content for search engines
Headline length, keyword density, using alternative wording and other key strategies to get noticed by Google
Lesson Five: Seducing Your Digital Visitors
How can you best lure visitors to your content? In this Lesson, we discuss the gentle practice of luring interested prospects to you, which involves:
Crafting an effective description
Teasing your story
Capturing the essence of your offering
Placing keyword phrases as effectively as possible
Avoiding duplication
Developing unique descriptions
Using SEO plug-ins
Lesson Six: Sharing
How can you get people to share your content?
In this lesson we explore the types of content that people love — and love to share. You'll learn about:
Why people share
The 20 types of sharing styles that are most effective in social media
Finding and using hash tags effectively
How you can help your content travel
Lesson Seven: Content Structure
How can you best plan out your content so that you don't end up staring at a blank page and wondering what to write about?
In Lesson Seven, we cover:
How to create an effective content calendar
Optimal sizes and word lengths, by medium
Most popular lengths for blog & social media posts
What you need to know about email subject lines
Lesson Eight: Online Advertising
What should you know about online advertising now that it's become New Zealand's most popular advertising medium?
All these and more:
How to create an effective AdWords advertisement
The secrets of dynamic ads
What you need to know about Facebook advertising
All about Pinterest Promoted Pins
Video advertising explored and explained
Lesson Nine: Content Curation
Much of your online activity can, and often should, involve sharing other people's content. So how do you find and share that content?
In Lesson Nine, we reveal:
Curation tools you can use
Where to find trending topics
How best to share
Epilogue
We close with a warning, as we reveal the seven deadly sins of writing for the web.
————————
WHO WILL BENEFIT FROM THIS COURSE?
Every organisation and every person who needs to prepare online content, whether for your website, for your blog, for social media or for video.
————————
WHAT CUSTOMERS ARE SAYING ABOUT OUR COURSES
Here's a sampling of the feedback we've received from those who've taken our courses:
Thanks for an informative and interesting [Facebook Accelerator] course. Your presentation held a good balance of theoretical and practical information and was clear and simple enough for a non IT Facebook novice like me to follow. There are many ideas that I have gained that I will attempt to incorporate in the overall marketing plan my team is currently developing for our brand. Facebook can offer so much more than I thought as a medium for communicating with our current and prospective customers. Julie D
I found this course fantastic, i started off knowing very little about facebook (just how to run my own personal page) to now having a thorough understanding of ALL the things you can (and there is a lot). The course format was great and allowed knowledge to be built up over time. Course length was great and this will definetly be something i come back to constantly as we develop our facebook pages more within my company. Aleisha H
I have really enjoyed the course and the way it was structured. It was informative and interesting – liked the way you incorporated slide-shows, video, statistics and different forms of media to provide information. Lisa C
————————
TIMING
This course begins on Wednesday 28 February, 2018.
————————
INVESTMENT
This nine-part online training course is available for $597 +GST. However we offer an EARLY BIRD DISCOUNT of $100 +GST — pay just $497+GST for bookings received by the end of Wednesday 21 February, 2018.
Bookings are confirmed on receipt of payment, which can be by bank deposit or credit card. We can raise an invoice in advance if you need it.
To reserve your place in this course, please pay by credit card through PayPal by clicking here.
If you would prefer to pay by bank deposit, or require an invoice, please send an email to [email protected] with your requirements.
WHAT HAPPENS NEXT?
You'll receive our emailed confirmation of your booking. Then on the first day of the course we'll follow up with details of your Login and Password, along with an Enrolment Key for the Writing for the Web online training course.