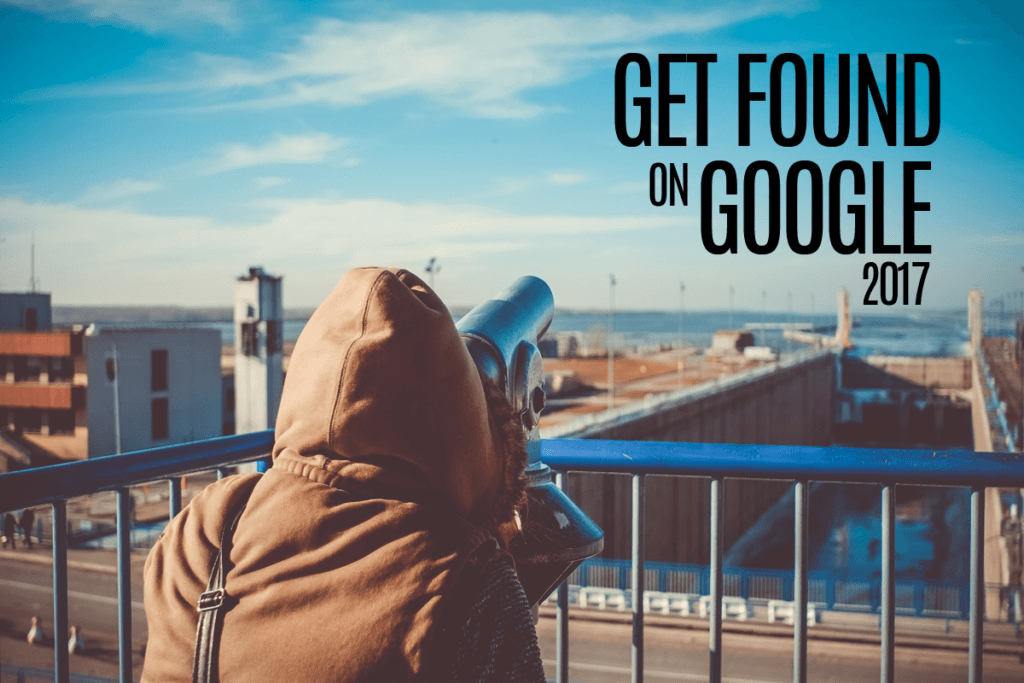 Let's face it — getting found in the search engines in 2017 feels like a never-ending game of whack-a-mole. Just when you think you've identified an approach that will satisfy the great algorithmic idols, along comes another quaintly-named but terrifyingly-lethal update that stamps out all your gains.
Now, however, assistance comes from a highly unexpected source: the Gplex itself. In an article released a few days ago, Google tackles the issue of snippets — the words underneath your link in search results that describe your webpage — and recommends some best practices.
Before buying a book, people like to get a snapshot of how they're about to spend a few hours reading. They'll take a look at the synopsis, the preface, or even the prologue just to get a sense about whether they'll like the book.
Search result snippets are much the same; they help people decide whether or not it makes sense to invest the time reading the page the snippet belongs to.
The more descriptive and relevant a search result snippet is, the more likely that people will click through and be satisfied with the page they land on. Historically, snippets came from 3 places:
1 The content of the page
2 The meta description
3 DMOZ listings
The content of the page is an obvious choice for result snippets, and  the content that can be extracted is often the most relevant to people's queries. However, there are times when the content itself isn't the best source for a snippet. For instance, when someone searches for a publishing company for their book, the relevant homepages in the result set may contain only a few images describing the businesses and a logo, and maybe some links, none of which are particularly useful for a snippet.
The logical fallback in cases when the content of a page doesn't have much textual content for a search result snippet is the meta description. This should be short blurbs that describe accurately and precisely the content in a few words [think Executive Summaries for each page].
Finally, when a page doesn't have much textual content for snippet generation and the meta description is missing, unrelated to the page, or low quality, our fallback was DMOZ, also known as The Open Directory Project.  With DMOZ now closed, we've stopped using its listings for snippeting, so it's a lot more important that webmasters provide good meta descriptions, if adding more content to the page is not an option.
What makes a good meta description?
Good meta descriptions are short blurbs that describe accurately the content of the page. They are like a pitch that convince the user that the page is exactly what they're looking for. For more tips, we have a handy help center article on the topic. Remember to make sure that both your desktop and your mobile pages include both a title and a meta description.
What are the most common problems with meta descriptions?
Because meta descriptions are usually visible only to search engines and other software, webmasters sometimes forget about them, leaving them completely empty. It's also common, for the same reason, that the same meta description is used across multiple (and sometimes many) pages. On the flip side, it's also relatively common that the description is completely off-topic, low quality, or outright spammy. These issues tarnish our users' search experience, so we prefer to ignore such meta descriptions.
Is there a character limit for meta descriptions?
There's no limit on how long a meta description can be, but the search result snippets are truncated as needed, typically to fit the device width.
Another Google article provides even more specific advice:
You can help improve the quality of the snippet displayed for your pages by following the general guidelines below.
The description attribute within the <meta> tag is a good way to provide a concise, human-readable summary of each page's content. Google will sometimes use the meta description of a page in search results snippets, if we think it gives users a more accurate description than would be possible purely from the on-page content. Accurate meta descriptions can help improve your clickthrough; here are some guidelines for properly using the meta description.
Make sure that every page on your site has a meta description. The HTML suggestions page in Search Console lists pages where Google has detected missing or problematic meta descriptions.
Differentiate the descriptions for different pages. Identical or similar descriptions on every page of a site aren't helpful when individual pages appear in the web results. In these cases we're less likely to display the boilerplate text. Wherever possible, create descriptions that accurately describe the specific page. Use site-level descriptions on the main home page or other aggregation pages, and use page-level descriptions everywhere else.
If you don't have time to create a description for every single page, try to prioritize your content: At the very least, create a description for the critical URLs like your home page and popular pages.
Include clearly tagged facts in the description. The meta description doesn't just have to be in sentence format; it's also a great place to include structured data about the page. For example, news or blog postings can list the author, date of publication, or byline information. This can give potential visitors very relevant information that might not be displayed in the snippet otherwise.
Similarly, product pages might have the key bits of information—price, age, manufacturer—scattered throughout a page. A good meta description can bring all this data together. For example, the following meta description provides detailed information about a book.
<meta name="Description" content="Author: A.N. Author,
Illustrator: P. Picture, Category: Books, Price: $17.99,
Length: 784 pages">
In this example, information is clearly tagged and separated.
Programmatically generate descriptions. For some sites, like news media sources, generating an accurate and unique description for each page is easy: since each article is hand-written, it takes minimal effort to also add a one-sentence description.
For larger database-driven sites, like product aggregators, hand-written descriptions can be impossible. In the latter case, however, programmatic generation of the descriptions can be appropriate and are encouraged. Good descriptions are human-readable and diverse, as we talked about in the first point above. The page-specific data we mentioned in the second point is a good candidate for programmatic generation.
Keep in mind that meta descriptions comprised of long strings of keywords don't give users a clear idea of the page's content, and are less likely to be displayed in place of a regular snippet.
Use quality descriptions. Finally, make sure your descriptions are truly descriptive. Because the meta descriptions aren't displayed in the pages the user sees, it's easy to let this content slide.
High-quality descriptions can be displayed in Google's search results, and can go a long way to improving the quality and quantity of your search traffic.
Oh, and here's a (dated but still mostly relevant) video explaining even further:

Work your way through as many of the above steps as possible. You'll be amazed how well it improves your search results.
PS We'd be remiss if we didn't mention our forthcoming Search Marketing Trends 2017 presentation: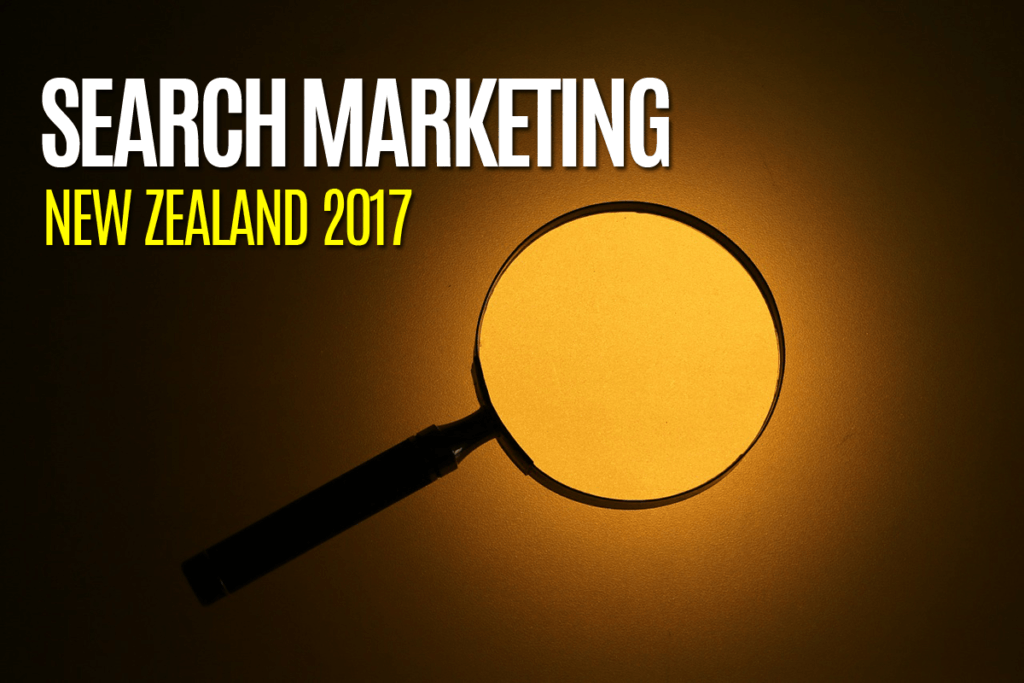 This is a slide presentation, with accompanying notes, providing an examination of Search Marketing Trends as we head towards 2018.
Like our other NZ Marketing Insights presentations, Search Marketing Trends looks ahead at what marketers should expect and plan for in 2017 and 2018 — based on local and global trends you may not yet have had the opportunity to examine — turning those forecasts into a comprehensive report & slide deck in PowerPoint format (with accompanying notes) – information that you can easily present to your team and your clients, bringing everyone up to speed on the latest New Zealand Marketing Insights as we accelerate through 2017. All presentations are unbranded, so you can add your own branding and comments.
Each presentation consists of at least 150 slides, dealing with as many key insights.
In this Search Marketing Trends presentation, to be published late July 2017, we'll wax lyrical about a wide ranging collection of topics, including:
Mobile Really Must Be First
In May 2015, Google reported that mobile searches had surpassed desktop searches on its search engine. Since then, the company has taken many steps which signal that mobile, not desktop, should be considered as the default user experience. Google is moving towards giving priority to mobile-centric indexing, which means that your website must as well.
Three Seconds is the New Fast
According to a study Google presented in late 2016, website that gain priority in search results will be expected to load in three seconds or less. That's simply a recognition by Google of the impatience of mobile-wielding web surfers. As you might imagine, that has direct implications for your website structure — and whether or not you opt for accelerated mobile pages (AMP) or Progressive Web Apps (PWA), which allow a website to work as if it were an app.
How Machine Learning is Revolutionising Google Search
Google CEO Sundar Pichai laid out the corporate mindset: "Machine learning is a core, transformative way by which we're rethinking how we're doing everything. We are thoughtfully applying it across all our products, be it search, ads, YouTube, or Play. And we're in early days, but you will see us — in a systematic way — apply machine learning in all these areas."
Perils of the Google Answer Box
In 2017/18, brands will need to place value on optimizing their digital content based on intent rather than specific keywords. As you have no doubt noticed, Google has become more and more likely to offer up specific answers rather than simply links to search results.
For example, here's Google's answer to the query "what is the height of mt egmont":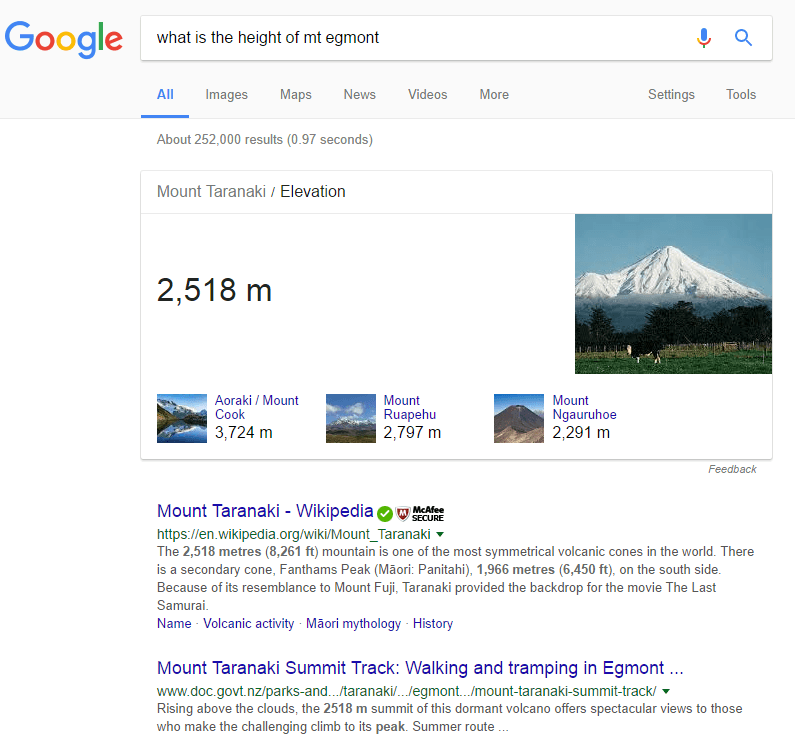 So how do you get chosen to be the answer to such a query (and is it a good thing)? We explore the options.
Google Shopping Now in NZ
Google Shopping has arrived in New Zealand and is likely to play a larger and larger role in commerce-based search queries. We look at the players so far and examine the possibilities.
Big Data + Search = Attribution Challenges
Today's conversion paths are extremely complex and as a result, micro-moments matter more than ever. Engaging with customers' days, weeks, and even months before they're ready to convert is going to be the new norm.
Reconsider Bing
Bing is a big player amongst the new breed of digital assistants. It's fueling the search of Apple's Siri and Amazon's Alexa, apart from being the default search engine of Microsoft's Cortana. Ignore it at your peril.
The Move to Natural Language Queries
Why does Google have this irresistible interest in natural language? Sure, on an ideal level, it's because Google wants "to provide the better answer to users' needs," and to do that, Google must:
Understand what each web document is about (semantics);
Understand what users are actually searching for, now that more and more using their voice to search
Voice Search
Already 20% of mobile queries are Voice Search (and will be 50% in 2020, according to Microsoft). Voice Search is going above and beyond voice recognition and evolving into voice understanding. This involves several changes with respect to:
previous searches
location-based context
context based on frequently used apps
personalised information
keyword research based on spoken queries
How should marketers modify their content to cope with those new search parameters?
The Search Marketing presentation also looks at:
the big challenges of cross-channel marketing
getting to know Google RankBrain
image recognition searches
Key SEO Stats
Google's top 3 ranking signals
User Experience Optimisation
Content Marketing That Impacts SEO
and, of course, a whole lot more
TO PRE-ORDER THE SEARCH MARKETING TRENDS PRESENTATION
The Search Marketing Trends presentation is due to be published in late July 2017, and will be available for $597+GST.
To pre-order, please pay by credit card via PayPal through this link:
BILLING OPTIONS
If you would prefer to pay by bank deposit, or require an invoice before making payment, please send an email to [email protected] with details of your request. (The service provider will be shown as Netmarketing Services Limited in your transaction and on your credit card statement).
WHAT HAPPENS NEXT
1. Your purchase will be confirmed by email (if you have not received a confirmation within 24 hours, feel free to email [email protected]).
2. Once the Search Marketing Trends presentation is published, download instructions will be provided to you by email.