It's that time again, when we dust off the crystal ball and peer into the future of New Zealand Marketing for the year ahead.
Then we wrap our findings up into a comprehensive slide presentation and make it available for you to present to your clients and colleagues as a preview of what to expect in 2018.
Launch 2018 with a comprehensive presentation to your team or your clients
Our NZ MARKETING INSIGHTS FOR 2018 presentation and slide deck,will be available in mid-January [but see below for a special launch offer available only until January 12].
Recent US research gives us a few hints about what we should (and do) cover: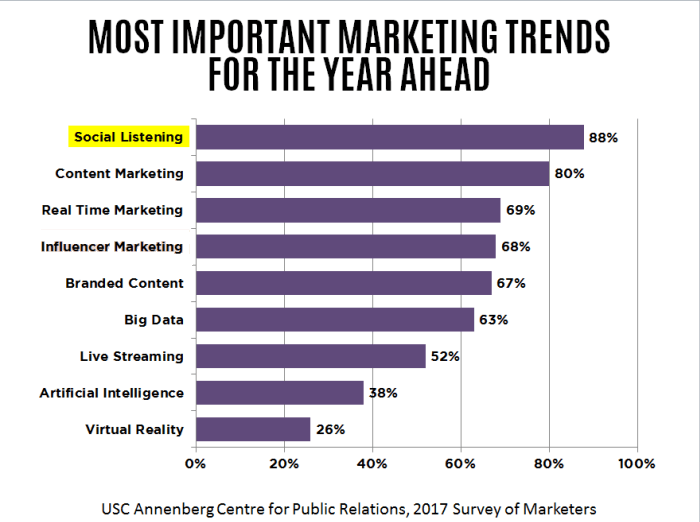 Some of the key topics featured in our NZ MARKETING INSIGHTS FOR 2018 presentation include:
Social Listening
Consumers, as they do, may well already be talking about you and your brand online, and if you don't know what they're saying, they could do significant brand damage. We consider what to listen for, how to listen and what to do next.
Influencer Marketing
The Internet in general, and social media in particular, has brought us thousands of influencers and micro-influencers, whose hustling on behalf of a product can encourage many of their followers to actually purchase said product.
Why? Because, according to a report by Nielsen, 92% of people trust recommendations from individuals over brands. And, let's face it, many brands have brought that fate upon themselves by their own less-than-trustworthy behaviour.

In this report, we consider the importance of Influencer Marketing — and explore how to identify effective Kiwi micro-influencers who will be good ambassadors for your brand.
Amazon's Arrival Down Under
What happens when the online shopping giant arrives in your neighbourhood? We look at the good, the bad and the ugly implications for NZ retailers and marketers.
Machine Learning & AI
The machines are taking over. All hail our new robot overlords. No, it's not Skynet — but when you ask Google a question, the answers are powered by RankBrain, machine-learning algorithms that are getting smarter every day.
And then there's chatbots, which are making a big difference for both customer service and sales conversion funnels. We bring you up to speed on this significant technology.
Google Goes Mobile-First
In early 2018, Google is expected to launch its mobile-first search algorithm, which will give priority to mobile-ready results (hardly surprising, given the high proportion of searches now conducted exclusively on mobile devices). So what does that mean for Kiwi marketers?
Dark Social
It's a catchy name — typically describing consumers talking to each other via messaging apps, email and other non-social channels — and it's now a major force to be reckoned with.  With dark social reported to be responsible for 84% of outbound sharing it's an area that marketers can't afford to ignore in 2018.
But Wait, There's More

Now let's look at some of the other marketing trends that will impact on Kiwi marketers in 2018.
The Big Picture
This first section of the presentation takes a look at what we can expect in 2018 from an economic and political perspective, in the wake of NZ First's decision.
Who We Are
Then we review our demographic and behavioural profile, based on the latest consumer lifestyle studies and statistics.
New Zealand Media
We delve deeply into the new breed of television offerings as the medium continues its inexorable migration online. We examine new Internet-delivered services from Sky and Vodafone TV and consider the potentially-far-reaching implications for marketers.
We then turn our attention to newspapers and explore what might happen as a result of the Fairfax/NZME merger High Court appeal — if it succeeds or if it fails.
The latest Radio and Out of Home developments come next, closely followed by what's new in Magazines.
We look at up-and-coming movie blockbusters for 2018.
Then we turn our attention to Experiences, review their importance (especially for millennials) and run through upcoming major events for the year.
Then it's time to turn our focus to digital.
We review some of the staggering statistics as a majority of New Zealand opts for unlimited data and consider the implications for NZ marketers now that Mobile dominates Internet usage.
We delve into the latest developments in Social Media, covering Facebook, Pinterest, LinkedIn, Twitter, Instagram, Snapchat and Google Plus.
We update the latest online video numbers and then dig deep into Messaging Apps.
A roundup of key marketing technology trends follows, including Personalisation, the Internet of Things, Augmented Reality, AI, Programmatic, Virtual Reality, Drones, Context Brokering, Blockchain and Wearables.
And we close with a brief look at Future Technology trends that will impact in later years.
Purchase your copy today
As we mentioned, our MARKETING INSIGHTS FOR 2018 presentation (comprising at least 150 slides) will be published in mid-December. It's unbranded, for you to present as you see fit to your clients.

This presentation looks ahead at what marketers should expect and plan for in 2018, across a wide variety of industries and technologies — based on local and global trends you may not yet have had the opportunity to examine — turning those forecasts into a comprehensive NZ MARKETING INSIGHTS FOR 2018 report & slide deck in PowerPoint format (with accompanying notes) – information that you can easily present to your team and your clients, bringing everyone up to speed on the latest New Zealand marketing insights as we accelerate towards 2018.
The "NZ MARKETING INSIGHTS FOR 2018" report and slide deck will be available for just $597+GST.
However we have a special launch offer for bookings and payment received by January 12:
Pay just $497+GST and SAVE $100!
If you would prefer to pay by bank deposit, or require an invoice, please send an email to [email protected] with your requirements.
Once we receive your payment, we'll drop you a quick email confirming your order. Then in mid-January we will send you download details for your copy of the NZ MARKETING INSIGHTS FOR 2018 report & slide deck.