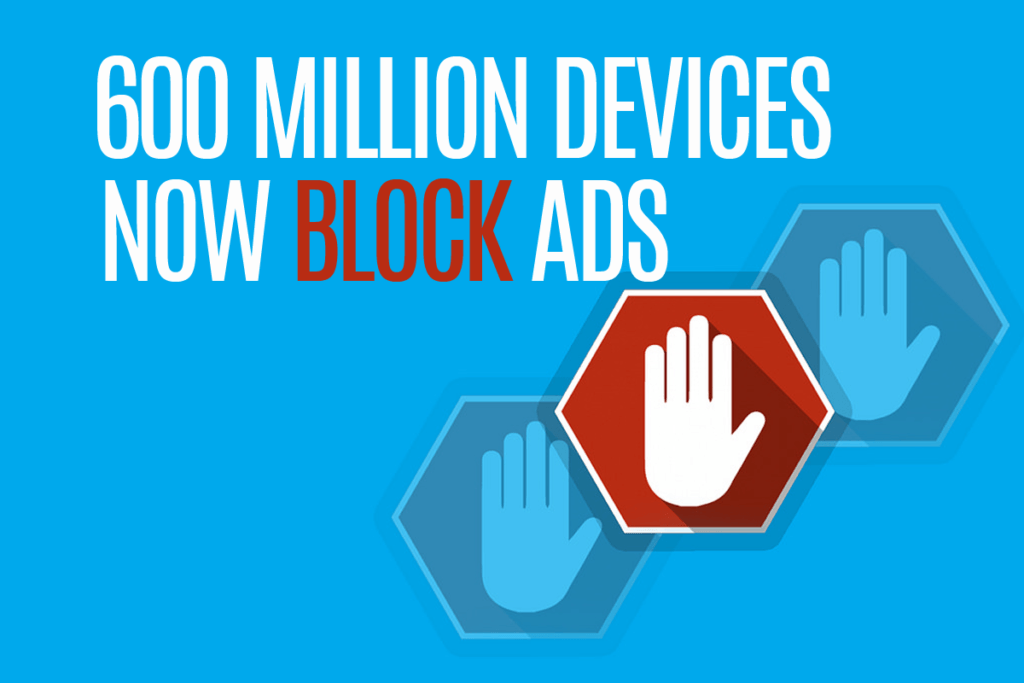 If you've ever wondered if you should worry about Ad Blockers, the answer is now Yes.
The Next Web reports:
Last year, some 11 percent of all internet users globally used ad-blocking software to thwart digital advertising on their favorite websites. All told, that equates to approximately 600 million devices ranging from smartphones, to tablets, to desktop computers. This figure represents a 30 percent increase annually, according to a new report published by PageFair.
Closer to home, Marketing Magazine Australia confirms that the ad-blocking menace is well-represented down under as well:
Almost 30% of Australian consumers are now using ad blocking technology on one of their devices (IAB Australia and Pureprofile 'IAB AdBlocking in Australia', November 2016).
The same study also found ad blockers are used primarily on desktops and laptops, with only 6% of people having ad blockers on mobile devices (and, even then, the vast majority of time spent on mobile is in-app, where ad blockers don't reach).
The fact that consumers want to avoid ads if they can is hardly new. All of us have plenty of personal experience with annoying, intrusive, irrelevant commercial messages. That's why so many of us have "No Junk Mail" notices on our letterboxes, are on the "Do Not Call" register, use spam filters on our email and skip merrily through commercials thanks to Personal Video Recorders like MySky.
Ipsos UK did a study in 2016 to gain a better understanding of why consumers block ads. No surprises with the results: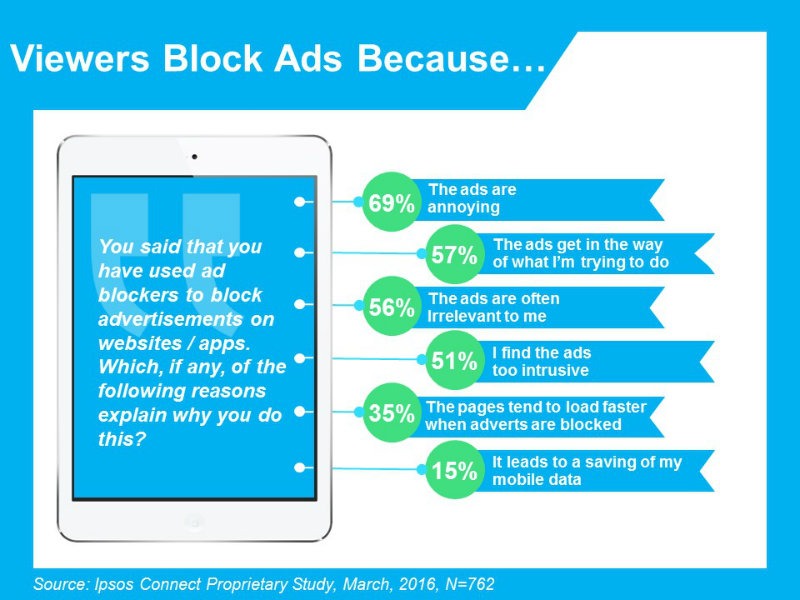 Ad blocking technology, unfortunately, is a baby & bathwater approach – every ad is blocked, our own wonderful creations along with everybody else's rubbish.
So, if you're a marketer, what can you do about Ad Blockers?
1 Create better, more relevant ads
Research about Personal Video Recorders found that relevant, entertaining TV ads (particularly movie trailers and big brand story-type ads) were least likely to be skipped.
No, we don't all have Hollywood- or Air-New-Zealand-sized marketing budgets, but we can still be creative on a shoestring — and, thanks to the many digital targeting tools available to us, we can really focus in on our target audience.
Yes, the 11% who are using ad blockers won't see our ads — but the remaining 89% will, and if we can improve our performance with the majority, we won't even notice the missing 600 million.
2 Consider Native Advertising
More and more publishers and marketers are turning to Native Advertising as a way to avoid the Ad Blockers.
So what exactly is Native Advertising? It is (says Wikipedia) a type of advertising, usually online but feasibly elsewhere, that matches the form and function of the platform upon which it appears. In the old days, we would have called it Advertorial.
The notion is simple enough: if your advertising mimics the style and format of the other content on a platform, the Ad Blockers have no way of identifying what is advertising and what is editorial.
That should do the trick, at least until the ad blocking companies develop AI that's smart enough to tell the difference.
3 Connect With Influencers
As Shawn Fergus of Ambassador notes:
Word-of-mouth is perhaps the oldest and most effective type of marketing. Consumers are always going to react more positively to recommendations from people they know than they are to brands. Ad blockers are no match for referrals from those we trust. It's why we rely on recommendations from advocates, be they customers, employees, partners or influencers.
Influencer Marketing is catching on, not just in response to Ad Blockers, but because the advent of Social Media has seen the rise and rise of Influencers whose utterances are treated like words of wisdom by the tribes (both big and small) that follow them.
NB For a whole lot more about Influencer Marketing, check out Lesson Eight of our Social Media Marketing Essentials course.
4 Implement Content Marketing
If you're a B2B marketer, RUN, DO NOT WALK and find out more about Content Marketing.
Why?
Because 87% of B2B buyers now conduct their own research BEFORE they make any contact with potential suppliers.
What sorts of research? Prospects gather information about your product or service category, read white papers, watch slide presentations and videos and read reviews. All the while, they're deciding exactly what product or service they need – and, through their research, determining exactly who should be on their shortlist.
If you're not contributing meaningful thought leadership content, but are instead relying on advertising or cold-calling to carry your message to prospective customers, sorry, that's no longer good enough. Just 3% of B2B sales now come from cold calls (DemandGen 2010).
You should be creating thought leadership pieces that shape prospects' opinions as they go through their research processes. Through such contributions, you'll be able to help define the agenda when prospects move into the buying phase — and you'll also be establishing yourself as an expert, someone to add to the shortlist of possible suppliers.
We've created a sponsored Thought Leadership project for NZ marketers who provide marketing services to Kiwi businesses – and we invite you to join us.
It's an opportunity to reinforce your position as a thought-leader in your category (and get seen by prospects for your products and services as they conduct their research).
Here are the details:
MARKETING INSIGHTS
from New Zealand's Leading Marketers
As the title suggests, MARKETING INSIGHTS is a special report collecting advice and opinion from leading NZ marketing professionals, enabling them to demonstrate Thought Leadership in their category. This is a content marketing project featuring sponsored contributions from many of New Zealand's leading marketers.
The first edition was published in May 2016 and you can download a free copy here.
Here are just a few of the unsolicited comments we received about the first edition:

What an amazing amount of information! Ian C, general manager
Some really insightful stuff in there! Really appreciate you sharing this with us. Aaron S. business development director
I found it an awesome read. Tony, senior account director
Really helpful info! Andre D, sales manager
Wow that's a beast of a report! Lots to digest and looks terrific. Adrienne B, general manager sales and marketingThe second edition will be published in April 2017 and will be distributed free of charge in electronic form to a wide range of New Zealand marketing decision-makers, from small, medium and large organisations.
Topics which marketers are invited to contribute include:
Marketing Trends, Challenges & Opportunities in 2017
CONTENT PARTICIPATION
This is a sponsored Content Marketing project. Marketers are invited to sponsor an article on one of the above topics and provide 500-1000 words on the agreed topic. All topic selection is subject to availability at time of booking. Relevant images are welcomed (high-resolution please).
A fee of $1295+GST applies for each sponsored contribution, due March 31 2017. However this fee reduces to $995+GST for payment in full received by February 28 2017.
All sponsored articles will include:
Author Credit
A sponsorship box at the end of the article, featuring the name & logo of your organisation, along with phone, email and website details.
The article can be written on your behalf, based on the topic you choose and featuring any key copy points that you wish to specify. Writing fees are $400+GST for 500 words, $750+GST for 1000 words.
Limited advertising may also be available in the publication.
Topics shown above are available on a first-come, first-served basis. Other topics may be proposed by sponsors and will be considered by the publishers.
The booking deadline is February 28 (if you wish us to write the copy) or March 22 if you are providing complete copy.

DISTRIBUTION
This book will be distributed initially as an ebook, offered free of charge via email, to New Zealand marketing decision-makers on our 1600-strong marketing database, to 3000+ current and former participants in our online marketing courses, and also via marketing blogs and social media and through participating industry associations and trade media. It will also be made available to members of at least a dozen NZ LinkedIn business and marketing groups with a combined membership of more than 50,000 Kiwi business people.
The ebook will also, of course, be available for contributing sponsors to distribute freely to clients and prospects.
To participate, email us at michael (AT) netmarketingservices.co.nz