Following on from the success of our Marketing Insights for 2017 trends presentation (which is still available here), we've just launched a new monthly Marketing Insights NZ 2017 Presentation Series which focusses in on some of the hottest and most important NZ marketing topics and trends for 2017, 2018 and beyond.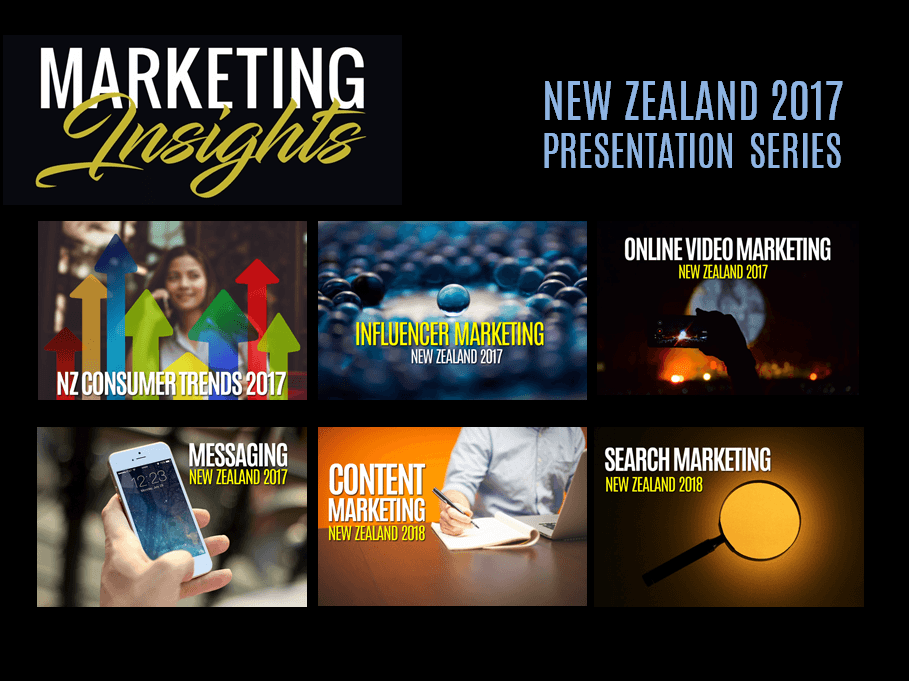 These presentations look ahead at what marketers should expect and plan for in 2017 and 2018 — based on local and global trends you may not yet have had the opportunity to examine — turning those forecasts into a comprehensive report & slide deck in PowerPoint format (with accompanying notes) – information that you can easily present to your team and your clients, bringing everyone up to speed on the latest New Zealand Marketing Insights as we accelerate through 2017. All presentations are unbranded, so you can add your own branding and comments.
Each presentation consists of at least 150 slides, dealing with as many key insights.
We've settled on six of the most important topics of the year ahead, starting with a comprehensive look at the New Zealand consumer:
1 NZ Consumer Trends 2017 (available NOW)
This presentation starts with a helicopter-level overview of the New Zealand consumer, drawing on local research to get an understanding of current Kiwi demographics, interests and behaviours.
Then, based on McKinsey research, we explore the dynamics (and the marketing implications) of five prevailing forces that are likely to have a lasting impact on Kiwis over the next few years — and which you need to factor into your marketing plans:
the changing face of the consumer
evolving geopolitical dynamics
new patterns of personal consumption
technological advancements
structural industry shifts
From there, we turn our attention to some of the specific trends influencing NZ consumer behaviour today. Here are just a few of the key issues covered in this Consumer Trends presentation:
The Longevity Economy
We've been warned about it for what seems like a very long time. Now it's here: the baby boomer age wave has finally arrived, bringing with it all sorts of changes, not just for that generation but also for their children and grandchildren (and, needless to say, for marketers as well).
Kids in Charge
At the other end of the spectrum, we see younger children having a much greater influence on the household and its purchasing behaviours. What are the implications for your carefully crafted brand persuasion campaigns?
If They Don't Know You By Now
One of the unintended consequences of the carefully curated, infinitely personalised Internet experience is that, as MINTEL notes, "many consumers find themselves in a perpetual cycle of being exposed only to ideas, beliefs, opinions and services with which they already identify". When search results, social media posts and video suggestions are all tailored "just for you", you're unlikely to be served serendipitous content that doesn't reflect your worldview. That's true of brands and marketing messages as well. So how do you break through and get noticed?
Right Here, Right Now
Kiwi consumers, in common with their peers in other parts of the world, have moved to an expectation of instant gratification. With their trusty smart phones in their pockets or purses, they head out into the world confident that whenever they need food, fuel or shopping satisfaction, such delights are merely a swipe or a tap away. It's a significant challenge for marketers, to rearrange their data geolocationally to meet consumer needs — and to make sure that the information is available in formats that our digital intermediaries Google, Microsoft, Apple, Facebook and Amazon (and their voice-activated minions Alexa, Google Assistant & Home, M, Siri and Cortana) can understand.
Shopping Glocal
As the Internet caught on down under, Kiwi online shopping was quick to go global, especially for those products unavailable in New Zealand (or too expensive to source locally, for a variety of reasons). Even so, the perceived complexity of global shopping limited its adoption amongst the tech-timid.
Times have changed, particularly because leading US retailers have come to recognise the potential revenues to be gained from global audiences. Over the last few years, famous brands such as Macy's and Neiman Marcus have been welcoming Kiwi visitors to their websites with the news that they are:
now shipping to New Zealand
displaying prices in Kiwi dollars
offering low international shipping rates
calculating duties and taxes at checkout
providing guaranteed landing costs
All in all, it's an attractive mix — but it is now becoming even more so, as global retailers move into the neighbourhood. Already, many of the biggest sellers on Trade Me are now international operators. H&M, Top Shop, David Jones and Zara have begun colonisation of local shopping precincts. And Amazon is about to open distribution centres across the Tasman, reducing shipping costs even further.
"Glocal" (Global+Local) is a horrible neologism — and an even worse reality for Kiwi retailers. We examine the trend, its implications and possible solutions.
Other Shopping trends we review include:
Fashion for "Real bodies" — clothing tailored for real people, not just supermodels
Healthwear — clothing that monitors (and sometimes helps with) health conditions
Fashion's fast lane — leading fashion designers are slashing the timelag between runway shows and getting products instore
What other topics do we cover in this NZ Consumer Trends presentation?
Try these:
Authenticity and its importance in a world of fake news, overblown hype and unsubstantiated promises
The expectations (and the perils) of Personalisation
Subscription Everything — curation meets recurring revenue
Fitness on display — "look at me" sportwear
Experiential Digital — what Pokemon Go taught us about blending real and virtual
Gone Incognito — hiding in plain sight, consumers rebel against the death of privacy
The Ethical Consumer — we won't pay more but we expect brands to behave
Addiction in your pocket or purse — the smartphone breeds subservience
Always On, unlimited — the connected majority
Streaming Video changes us all — bingewatching, your programmes whenever and wherever
Adblocking goes mainstream — display ads are under threat as adblocking gets built into browser software
AI everywhere — Skynet takes over, one "OK Google" at a time
Voice input ascendant — voice recognition software is now faster and more efficient than keyboard entry
Biometric ID — your face, your eye or your fingerprint is now your password (and much easier to remember)
The Sharing Economy — cars, bikes, accommodation: what else can we share?
P2P Financing — why should the banks make all the money?
Maori Cuisine — coming to a restaurant near you
Back to Traditional Products & Tastes — a return to authentic values
V Power — plant-focused formulations wow the mainstream
Night Foods — food ingredients designed to help us sleep
All that and plenty more (many of which we're keeping under our hats for now), in the NZ Consumer Trends 2017 report and slide presentation, to be published in May 2017. To order this presentation, see the available packages below.
3 Content Marketing 2018 (to be published June 2017)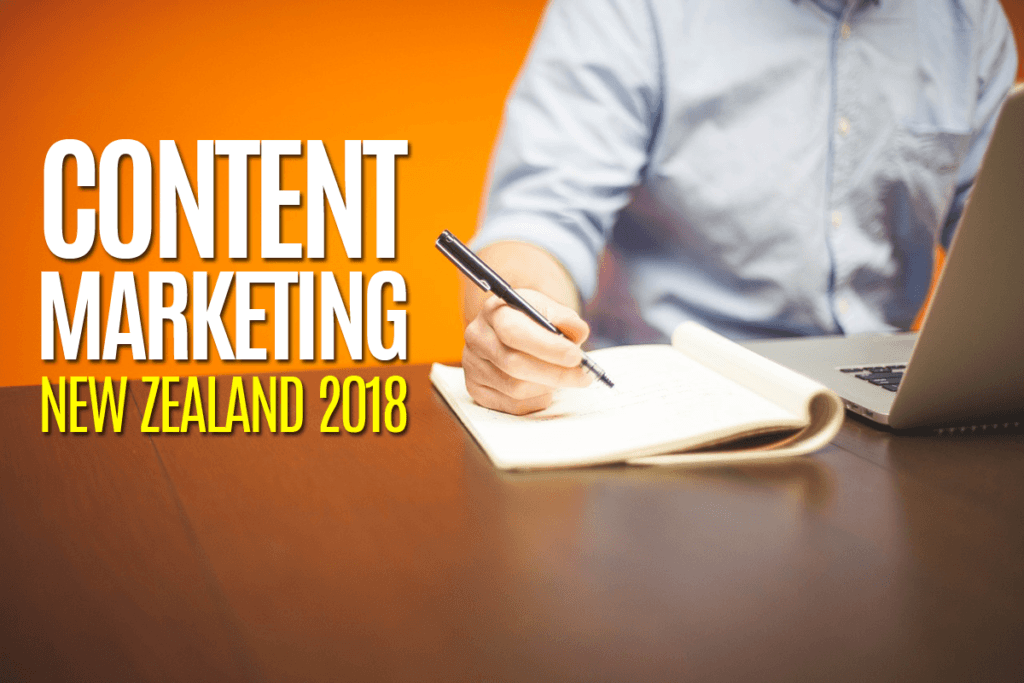 Content Marketing continues to blossom, especially in New Zealand, as more and more brands realise that consumers are doing their own homework online rather than seeking advice from salespeople (who may — how can we put this delicately? — not be entirely objective).
One of the solutions: provide helpful, relevant content online so that when consumers do their homework, you're able to shape their thinking accordingly.
That's why Content Marketing has earned its place as one of the topics we cover in this year's Marketing Insights Presentation Series.
Here are some of the issues we feature:
The power of Nearby and Micro-Moment Marketing
The ubiquitous smart phone continue to change the game. Where once longform content was king, now snackable snippets — served up in answer to queries like "restaurant near me" — have become the new currency. We explore the trend and its implications.
Content Marketing as Defensive Mechanism
So many people are talking — not always positively — about brands and companies online, and organisations don't always get the chance to present their own point of view as part of that conversation. As a result, many are turning to Content Marketing as a means to get their message out there.
Talking to Your Own
Content marketing has also seen itself become an internal PR tool, used to communicate in a planned and more effective manner with staff, dealers and suppliers. How are you ensuring that your own people know what they should about your organisation?
Overcoming "Content Shock"
Even when marketers do invest in Content Marketing, there are challenges. One of the biggest challenge: getting heard out there, amongst the ever-increasing cacophony of social media posts, blogs, video and all. It's been dubbed "Content Shock" — and we look at how to deal with it.
Content Will Get useful or Get Ignored
Smart marketers will begin to invest in bigger content projects such as creating free and robust online tools, writing the go-to books in their industries, and creating environments where their customers can build a community to share knowledge
Accountability
content marketers will be held accountable not just for how much content they create, but what it does for the business (much like demand generation teams).
Other topics that will feature in this presentation include:
Personalisation
Engagement
Data-driven Insights
Interactive Experiences
Face-to-face Opportunities & Live Events
challenges of developing engaging visual content
the talent shortage
Algorithm-driven content distribution
Live video
compelling content experiences
the emergence of AI journalism
Immersive Content Formats
Science-based content marketing
The rise of the Content Librarian
The continuing rise of paid promotion and the decline of organic reach
Scroll down to order.
4 Search Marketing 2018 (to be published July 2017)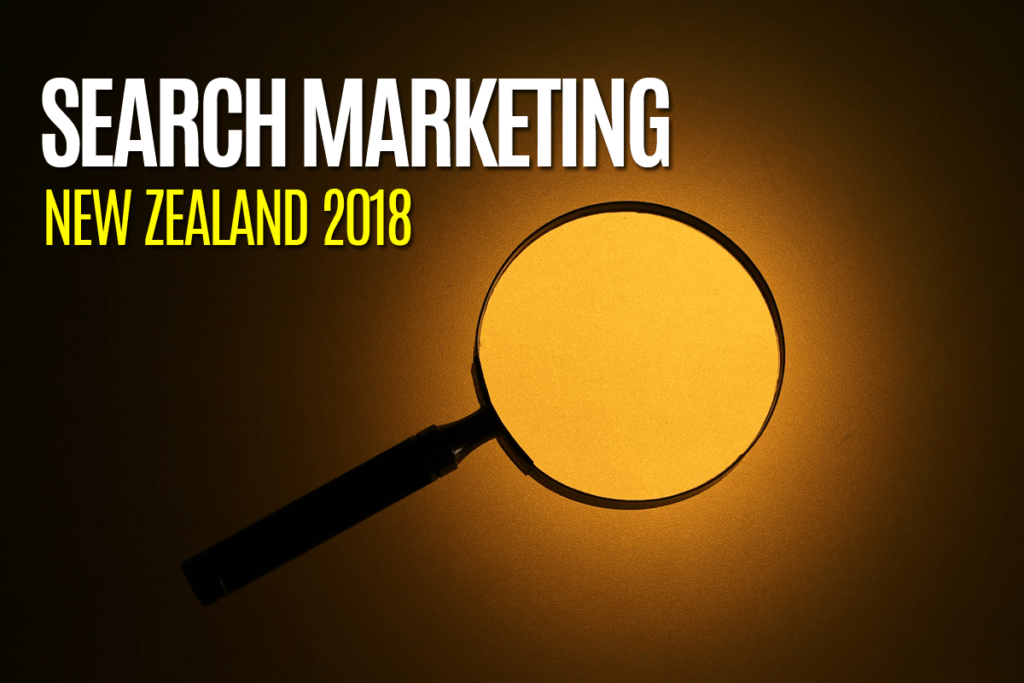 Next: an examination of Search Marketing Trends as we head towards 2018.
In this presentation, we'll wax lyrical about a wide ranging collection of topics, including:
Mobile Really Must Be First
In May 2015, Google reported that mobile searches had surpassed desktop searches on its search engine. Since then, the company has taken many steps which signal that mobile, not desktop, should be considered as the default user experience. Google is moving towards giving priority to mobile-centric indexing, which means that your website must as well.
Three Seconds is the New Fast
According to a study Google presented in late 2016, website that gain priority in search results will be expected to load in three seconds or less. That's simply a recognition by Google of the impatience of mobile-wielding web surfers. As you might imagine, that has direct implications for your website structure — and whether or not you opt for accelerated mobile pages (AMP) or Progressive Web Apps (PWA), which allow a website to work as if it were an app.
How Machine Learning is Revolutionising Google Search
Google CEO Sundar Pichai laid out the corporate mindset: "Machine learning is a core, transformative way by which we're rethinking how we're doing everything. We are thoughtfully applying it across all our products, be it search, ads, YouTube, or Play. And we're in early days, but you will see us — in a systematic way — apply machine learning in all these areas."
Perils of the Google Answer Box
In 2017/18, brands will need to place value on optimizing their digital content based on intent rather than specific keywords. As you have no doubt noticed, Google has become more and more likely to offer up specific answers rather than simply links to search results.
For example, here's Google's answer to the query "what is the height of mt egmont":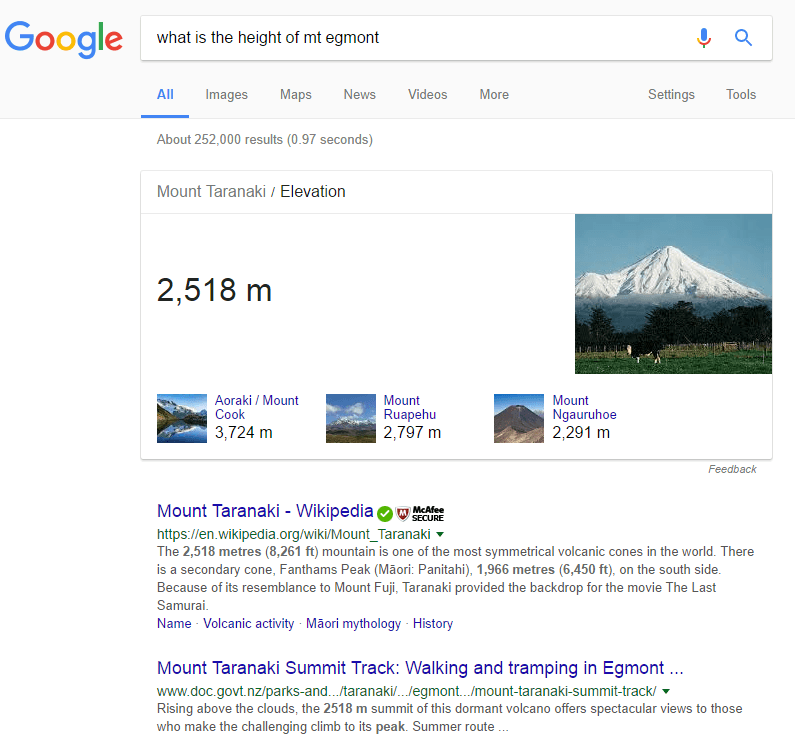 So how do you get chosen to be the answer to such a query? We explore the options.
Google Shopping Now in NZ
Google Shopping has arrived in New Zealand and is likely to play a larger and larger role in commerce-based search queries. We look at the players so far and examine the possibilities.
Big Data + Search = Attribution Challenges
Today's conversion paths are extremely complex and as a result, micro-moments matter more than ever. Engaging with customers' days, weeks, and even months before they're ready to convert is going to be the new norm.
Reconsider Bing
Bing is a big player amongst the new breed of digital assistants. It's fueling the search of Apple's Siri and Amazon's Alexa, apart from being the default search engine of Microsoft's Cortana. Ignore it at your peril.
The Move to Natural Language Queries
Why does Google have this irresistible interest in natural language? Sure, on an ideal level, it's because Google wants "to provide the better answer to users' needs," and to do that, Google must:
Understand what each web document is about (semantics);
Understand what users are actually searching for, now that more and more using their voice to search
Voice Search
Already 20% of mobile queries are Voice Search (and will be 50% in 2020, according to Microsoft). Voice Search is going above and beyond voice recognition and evolving into voice understanding. This involves several changes with respect to:
previous searches
location-based context
context based on frequently used apps
personalised information
keyword research based on spoken queries
How should marketers modify their content to cope with those new search parameters?
The Search Marketing presentation also looks at:
the big challenges of cross-channel marketing
getting to know Google RankBrain
image recognition searches
Key SEO Stats
Google's top 3 ranking signals
User Experience Optimisation
Content Marketing That Impacts SEO
and, of course, a whole lot more
4 Influencer Marketing 2017 (to be published August 2017)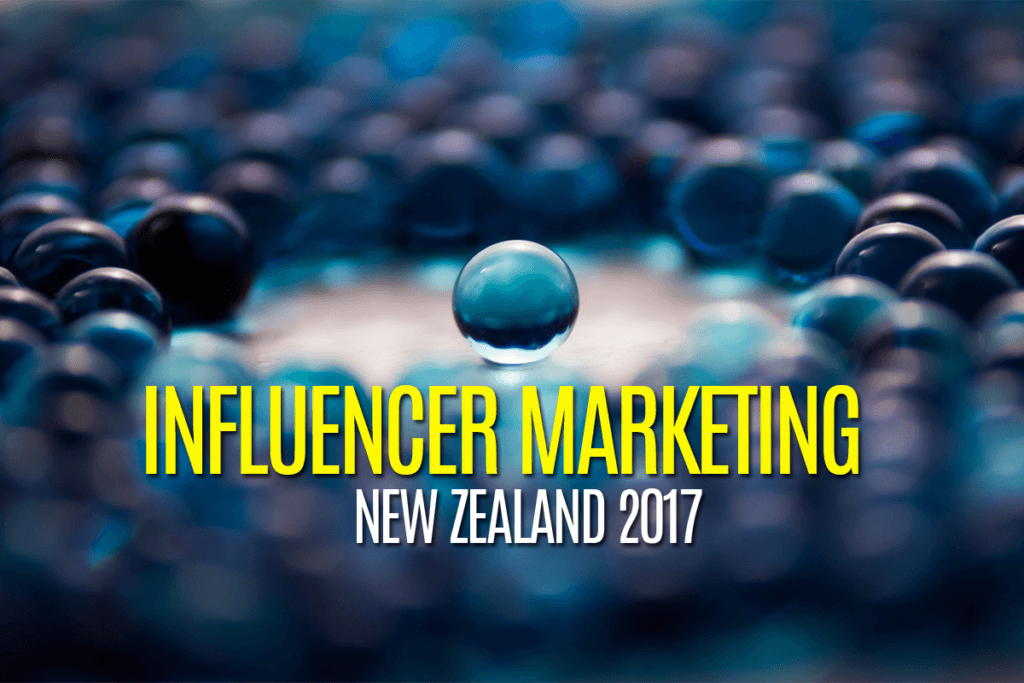 Our next special report/presentation deals with the fast-growing topic of Influencer Marketing.
If you're not sure exactly what Influencer Marketing is, allow TapInfluence to explain:
Influencer marketing is a type of marketing that focuses on using key leaders to drive your brand's message to the larger market. Rather than marketing directly to a large group of consumers, you instead inspire / hire / pay Influencers to get out the word for you.
Influencer Marketing has evolved from humble origins to end up as the preferred buzzword to describe the current iteration of a well-established and familiar marketing tool: using "celebrities" to promote your products.
There's a bit more to Influencer Marketing than just plunking a few celebrities into a TV commercial, however. Today's definition of "celebrities" (Influencers) has broadened to encompass those who are, in the words of Andy Warhol, "famous for 15 minutes".
At the same time, the number of celebrity followers that an Influencer might attract has shrunk from hundreds of thousands to, sometimes mere hundreds (whose celebrity leaders have been accordingly dubbed micro-influencers).
The Internet in general, and social media in particular, has brought us thousands of influencers and micro-influencers, whose hustling on behalf of a product can encourage many of their followers to actually purchase said product.
Why? Because, according to a report by Nielsen, 92% of people trust recommendations from individuals over brands. And, let's face it, many brands have brought that fate upon themselves by their own less-than-trustworthy behaviour.

Anyway, here's how Google Trends depicts Influencer Marketing's growth in search popularity over the last few years:
How hot is Influencer Marketing, really?
Here's one indicator: 84% of US marketers are planning to use Influencer Marketing this year (according to Acorn Influence).
So, to bring you up to speed with Influencer Marketing, we're producing this special presentation, whose topics include:
The Seven Most Effective Influencer Marketing Strategies
As it turns out, there's a bit more to Influencer Marketing than simply tracking down people who seem to have a lot of followers in social media. We share proven strategies which will help lessen potential heartache.
How to Choose the Influencers Who are Right for You
Not all Influencers are created equal (and there are more than a few pretenders to the throne out there). We discuss what to look for (and what to avoid) — and why you should proceed slowly as you assemble your Influencer team.
Best Practices on Connecting with Influencers
Once you've determined the most appropriate Influencers for your brand, it's time to reach out and connect. If you're not careful though, and haven't thought through the right approach, you might be turned down — or end up paying too much. We share lessons from others that will help ease the way.
Where and How to Find Kiwi Influencers
There are surprising numbers of influential New Zealanders who have attracted a wide following through their efforts on YouTube, Pinterest, Facebook, Instagram, Snapchat and elsewhere. We show you how to find them — and also sound a few cautionary notes.
In the Influencer Marketing NZ Presentation, we also examine:
the top Power Words to use
creative ways to incentivize influencers
Influencer Marketing measurement, KPIs & ROI
the four Rs of effective Influencer Marketing
how to run successful Influencer Marketing campaigns
what Google's purchase of Famebit tells us about the future of Influencer Marketing
why major players are now buying Influencers
Influencer Case Studies
Influencer Marketing Tools
why Influencer campaigns fail
the fastest way to destroy your Influencer Marketing efforts
twenty trends that will shape Influencer Marketing in the next year
All that and of course much more, in the Influencer Marketing NZ 2017 report and slide presentation, coming out in August. Again, to order this presentation, see the available packages below.
5 Online Video Marketing 2017 (to be published September 2017)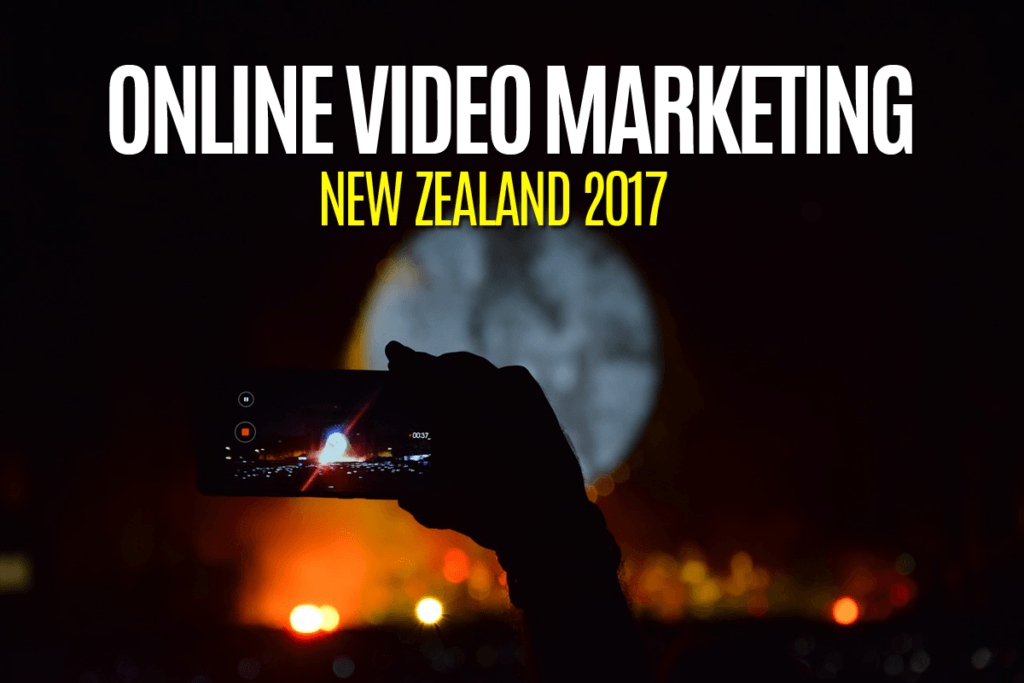 Online Video is no longer an "up-and-coming" marketing tactic — it's here, and it's a powerful way to communicate your brand story, explain your value proposition, and build relationships with your customers and prospects.
And the statistics show that it's working its socks off, especially with younger audiences: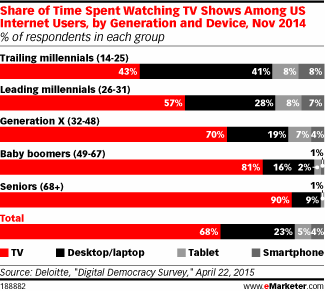 The 2016 Nielsen New Zealand Multi-Screen Report, covering trends of Kiwi video viewing, reveals that around a quarter (26%) of New Zealanders watch TV content through other devices (not a TV set) in an average week. Besides the TV set, the most popular devices for watching video content across a week are desktops/laptops (39%), smartphones (27%) and tablets (18%).
We offer a training course covering Online Video Marketing, but the topic has become so important that we're also creating this special report/presentation to bring you up to speed with the latest developments in Online Video.
In the presentation, we cover:
Google Loves Video
It's not always evident down our way, but Google gives priority in search results to those that include videos. Which spells opportunity: add videos to your pages, optimised for relevant keywords, and feel the Google love.
Customers Now Expect Moving Pictures
When you realize that 25% of consumers will lose interest in your brand if you don't have a video explaining your product or service, you'll quickly decide the videos are really important for your brand as well.
The Transformative Nature of Live Video
Facebook and YouTube have gone all-in on live video, giving live content pride of place on their respective networks. If you can create relevant, entertaining live video for your brand, this just could be the most effective weapon in your marketing arsenal.
One Size No Longer Fits All
Gone are the days when you could make one video on Youtube and share it all over social media. Nowadays, it's vital to create content that's relevant to each platform.
Vertical Videos Are A Thing
The near-universal adoption of smartphones, as both capture and viewing mechanism, means that Vertical Video is now a valid — and desirable — format. But you do need to develop content that's optimised for that format.
More Videos Will Be Designed to Play Without Sound
According to Digiday, 85 percent of Facebook video is watched without sound. Suddenly, that stark statistic underlines the necessity of providing effective captions for your videos. In this section we reveal a surprisingly easy way to create captions for Facebook.
Other topics featured in this presentation include:
the steady growth of VR and 360 degree videos
how brands have already started integrating videos into their website design
the unexpected value of video voicemail
skyrocketing Video Advertising budgets
the accelerated growth of Video Retargeting
Increase in A/B Video Testing
Crisis Management and Video
the viral ingredients of successful videos
All that and the latest breaking news and trends, in the Online Video Marketing NZ 2017 report and slide presentation, coming out in September. Again, to order see the available packages below.
6 Messaging Apps 2017 (to be published October 2017)
According to Evan Wray, Co-Founder and VP of Swyft Media:
"Messaging today is very similar to where traditional social media was in 2007/08. Brands know that there are hundreds of millions/billions of highly engaged users, but these same brands are also still trying to figure out exactly how to engage these users effectively. This is a massive opportunity for first movers in the messaging space, just like there was in 2007/08 for those brands that took advantage of social."
Well, we've been there done that in the social media space, so we know an opportunity when we see it — and we're more than happy to share it with you through this Messaging NZ 2017 presentation.
The presentation covers:
Users Getting Older
In the early days of messaging, early adopters were largely drawn from younger generations. Now, as they usually do, the grown-ups are getting into the act. By mid-2016, 29% of those aged 30-49 used messaging apps compared with 42% of 18-29s (US data).
Chatbots becoming useful
Chatbots have been around a whole lot longer than you think (since 1994, according to Wikipedia, when they were first described as chatterbots). But they've only really gone mainstream in the last couple of years, thanks to messaging apps in general — and Facebook Messenger particular. At the Facebook f8 developer conference in April 2017, Facebook announced that Messenger has grown to support 100,000 developers who have made 100,000 bots. Most don't do much — but the technology has now moved from novelty to utility, especially in terms of enhanced customer service and truly personalised results thanks to machine learning.
The Top 5 Chatbot Capabilities
According to a study by the US interactive advertising bureau, these are the top five capabilities that chatbots make possible:
personal connection
discovery
curation
utility
online to off-line connection
What Else Might Messaging Apps Do?
To peek into the future of messaging apps, turn our attention to China's own WeChat.
WeChat provides what several different apps would normally provide – text messaging, voice messaging, group messaging, video conferencing, video games, content sharing, location sharing, payment options and more. You can perform almost any task within the WeChat app – buy a mortgage, trade a stock and even grocery shop. Most recently, WeChat announced that users will be able to pay for Starbucks via the app's payments.
Brands Will Embrace A2P (application-to-person) Messaging
Received a text message with an appointment reminder or an authentication code whilst banking online? That's A2P, and is a great opportunity for brands to enhance their offerings and communicate more effectively, one-to-one, with customers.
Minimum Effort
Many of the development opportunities within messaging and machine learning are embodied in the notion of "minimum effort". In a nutshell, when communicating with a company, consumers want their interactions to be made easier because the company already "knows" certain things about them (such as their clothing and shoes sizes, for example, or their preferred pizza flavours). Such knowledge is not typically available to front desk staff in the real world — but should be available in the virtual world once the customer identifies himself or herself.
Effective Enterprise Messaging
The majority of workers today prefer and expect to communicate with colleagues and receive company-related content on their mobiles.
Other topics that this presentation will cover include:
Chat-based commerce and payments
Security issues and opportunities
and the latest developments in messaging trends when the presentation is released
This presentation is due to be published in October 2017. Scroll down for ordering details.
Available Packages


Any single presentation $597+GST. Click here to sign up for the single presentation option via PayPal.

Any two presentations $1094+GST, saving you $100 on the individual purchase price. Click here to sign up for the two presentation option via PayPal.


Any three presentations $1597+GST, saving you $194 on the individual purchase price. Click here to sign up for the three presentation option via PayPal.


Any four presentations $1997+GST, saving you $391 on the individual purchase price. Click here to sign up for the four presentation option via PayPal.

Five presentations $2347+GST, saving you $638 on the individual purchase price). Click here to sign up for the five presentation option via PayPal.

All six presentations $2597+GST, saving you $985 on the individual purchase price. Click here to sign up for the all 6 presentations option via PayPal.
Alternatively, sign up for a six-month subscription package for all six presentations and pay $547+GST [$629.05 including GST] per month, saving you $300 on the individual purchase price. Click here to sign up for the subscription option via PayPal. Your credit card will be billed monthly for six months.
BILLING OPTIONS
If you would prefer to pay by bank deposit (not available for the subscription option), or require an invoice before making payment, please send an email to [email protected] with details of your request. (The service provider will be shown as Netmarketing Services Limited in your transaction and on your credit card statement).
WHAT HAPPENS NEXT
1. Your purchase will be confirmed by email (if you have not received a confirmation within 24 hours, feel free to email [email protected]).
2. If you selected anything other than the "all presentations" or subscription options, we will email you to determine which presentation(s) you wish to purchase.
3. As each presentation is published, download instructions will be provided to you by email.