As we've mentioned a time or two on this blog before, we regularly monitor around 25,000 New Zealand Facebook pages, taking particular note of the pages getting most talked about.
Over the last week, the Northland Regional Council's Facebook page has popped up on our radar, achieving 9,312 Engagements (what Facebook calls "People Talking About") despite having just 3,840 followers.
What, we wondered, was all the fuss about?
Turns out that it's Redback Spiders. Here's the post that got most of the attention, talking about an Australian illegal immigrant:
Apart from the 2,855 shares and 842 likes/reactions, the post also attracted 725 comments, many asking about the Council's observation that "there are established red back populations in New Zealand".  (Yes, notes the Council, "Red back spiders have been recorded as established in New Zealand since the 1980's. There are populations in Otago, New Plymouth and most recently, Taupo.")
Congrats, Northland Regional Council, for getting so much attention to your post. An important public service message (though we wish the topic wasn't quite so disturbing).
Other Popular NZ Facebook Pages
Other high-performing Kiwi Facebook pages at the moment include:
AGI Education, celebrating the official opening of AGI's new Epsom campus (9,012 Engagement, 2,240 followers):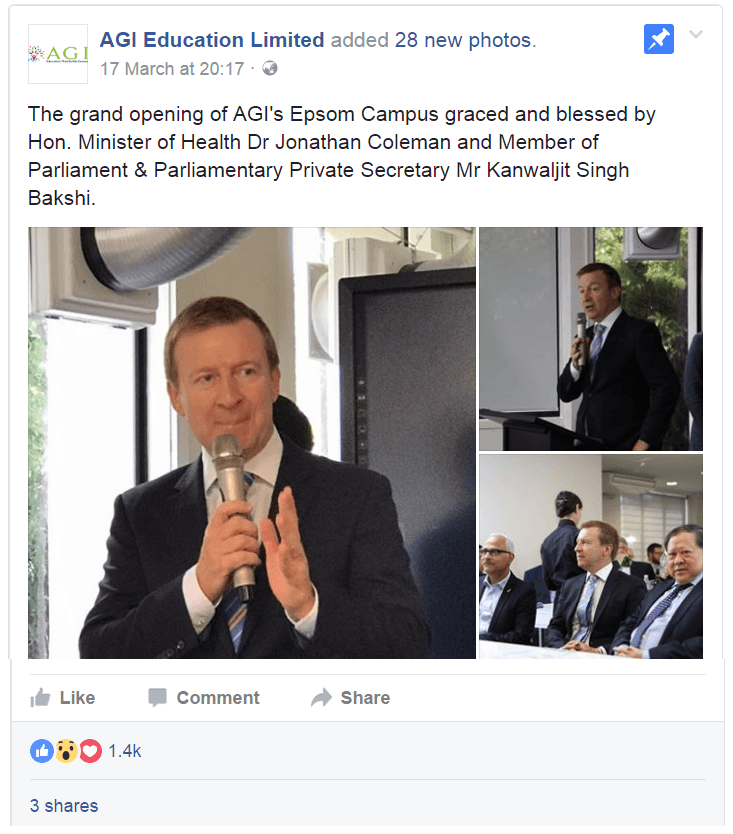 Hossack Station Trophy Hunting (2,641 Engagement, 1,987 followers):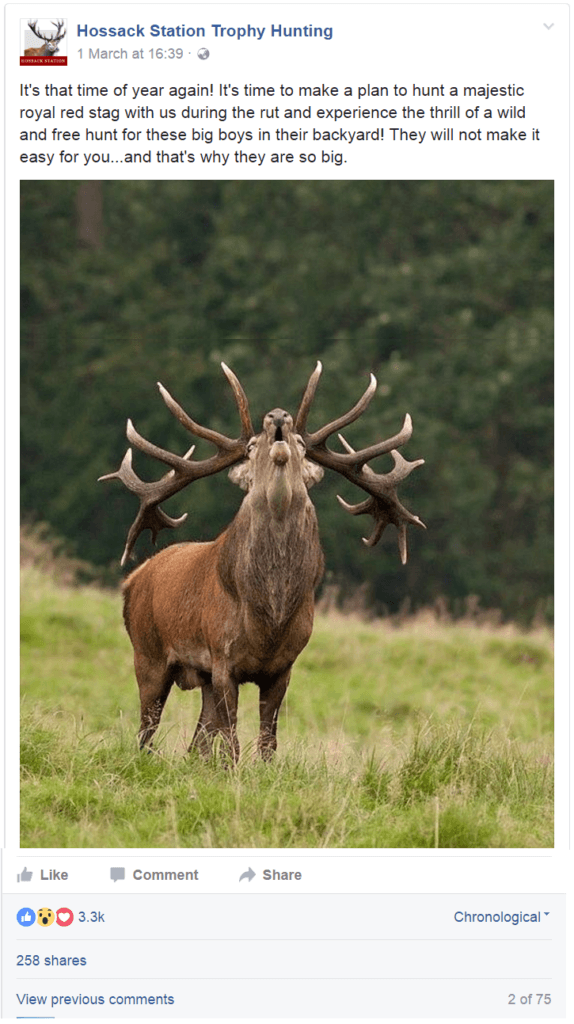 Zero to Five Baby Quality Baby and Kids Gear (5266 Engaged, 4916 followers)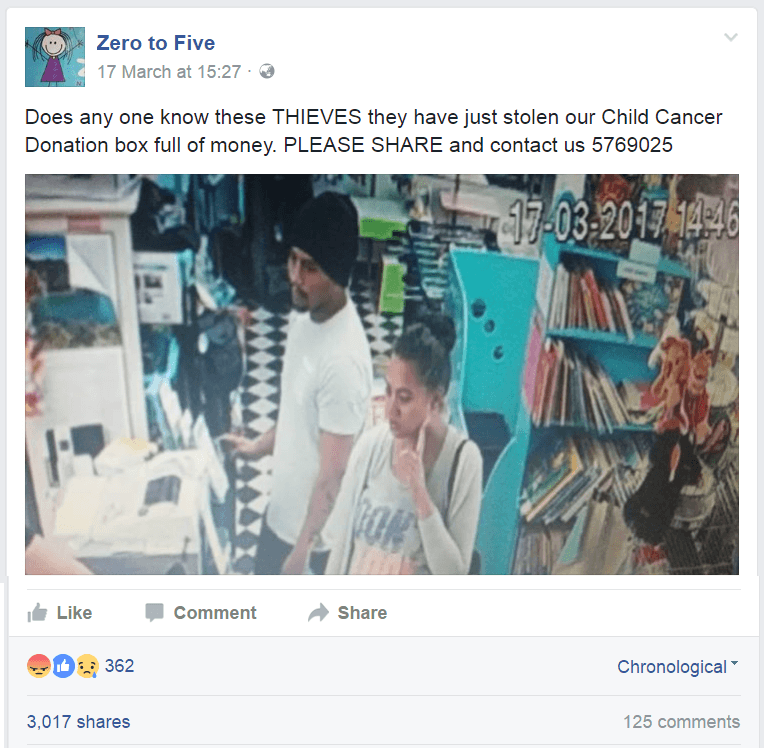 (Sadly, this post also fell into the Public Service category, for the worst of reasons).
If you'd like to improve the performance of your Facebook posts, check out our Facebook Accelerator course:
So you have a few hundred (or a few thousand) followers on Facebook but now you want to know how to get to the next level and make this social sensation really work for you?
Introducing our Facebook Accelerator seven-part online course that will lead you through the steps necessary to supercharge your Facebook presence. Through this Facebook course you'll learn:
how to take a cold, hard look at what you've achieved on Facebook so far (warning, icy water and a brisk dose of reality may lie ahead!)
how to pick yourself up, reboot your (brand) personality online and (it may be necessary!) give your Facebook outpost an urgent and extreme makeover
the importance of Facebook's algorithms (what?) and how they shape your posts and comments
why consumers really bother engaging with brands — and the Number One most important secret you need to know to connect with them effectively
smart thinking (stolen from others' successes!) that will help you reach out to key influencers and tap into the magic of viral
how a blend of old media habits and new social strategies can work wonders for you
the growing importance of social gaming — and how you can start to cash in as Facebook rolls out new tricks
selling stuff on Facebook directly — can you do it, should you do it and how can you do it?
why social shopping is so influential and how you can tap into this latest craze (without discounting the shirt off your back)
going social outside Facebook – and why it matters
WHO SHOULD TAKE THIS FACEBOOK COURSE?
Anyone who's already developed a presence on Facebook and wants to make it grow.
COURSE CREATION AND TUTORING
This Facebook course has been created and will be tutored by Michael Carney. Michael is a veteran marketer with an insatiable passion for whatever's new, different, exciting or interesting in the world of communications — and particularly in the social media marketing space.
COURSE CONTENTS
LESSON ONE: AUDIT AND MAKEOVER
In this first lesson we invite you to audit your current Facebook presence. Who have you attracted so far to your Facebook page, how much are they interacting with you and what do they get to see when they arrive at your Facebook Fan Page anyway? Then we show you some of the ways that leading brands and organisations have set themselves up on Facebook and identify the key elements you'll need to include if you want to increase your success on Facebook. You may even find yourself rethinking your current Facebook activity entirely.
LESSON TWO: ENGAGEMENT
Know anything about Facebook's algorithms? These not-very-well-known formulae determine exactly how visible you are on Facebook, especially to those who say they like you. We peek under the covers and show you exactly what you need to do to prosper under the algorithms — and how important it is to engage in particular ways with your fans and followers. A word of advice: don't post anything more to Facebook until you've completed Lesson Two.
LESSON THREE: PLANTING VIRAL SEEDS
"Viral" is one of those magic qualities to which most marketers aspire. Alas, many are called but few are chosen. In this lesson we look at the principles behind some of the most effective viral campaigns of recent time — and show you how to harness those concepts to reach out to influencers and consumers alike. We'll also discuss how you can (legally and legitimately!) make Other Peoples' Content actually work for you!
LESSON FOUR: ADS AND SPONSORED STORIES
In Lesson Four we explore Facebook Ads and Sponsored Stories. They're more accessible than you think, and they're socially primed to drive fans to your page. Time to dig deep and find out what can be done, even on small budgets. In this lesson we also talk about Social Gaming and virtual currencies and how marketers are using them to good effect on Facebook.
LESSON FIVE: CREATING EFFECTIVE FACEBOOK POSTS
(NEW FOR 2017)
The biggest challenge for any business using Facebook pages these days? Creating Facebook posts that get noticed and get shared.
So this lesson tackles this problem head on, identifies the secrets of effective Facebook posts and shows you exactly what you need to do to stand out on Facebook.
LESSON SIX: SOCIAL SHOPPING
There's a whole lot more to social shopping than just offering a drop-dead, deeply discounted deal and ending up with bargain shoppers who won't spend a penny more than their coupons allow. We take a serious look at some of the best practices in this space and identify smart ways to help your customers spend more of their hard-earned money with you. Along the way we'll discuss pre-commerce, augmented recommendations and how to turn existing customers into advocated (without them having to do anything). And we also take a look at Facebook Apps and how they can be of use to you.
LESSON SEVEN: THE SOCIAL GRAPH
Finally, we look at the increasing number of ways that your consumers can connect with their friends outside Facebook, how you can help the process along and why it matters (hint: these days people trust their friends more than they trust you — nothing personal). Along the way, we'll identify a few simple protocols that you (or your IT folk) can add to your own website to sharpen your social results.
TIMING
This online training course begins on Wednesday 07 March, 2018.
INVESTMENT
This seven-part Facebook course is available for $497 +GST. However we offer a $100 Early Bird Booking Discount — the course is just $397 +GST for bookings made and payment received by Wednesday 28 February, 2018.
Bookings are confirmed on receipt of payment, which can be by bank deposit or credit card. We can raise an invoice in advance if you need it.
To reserve your place in this Facebook course, please pay by credit card through PayPal by clicking here.
(The service provider will be shown as Netmarketing Services Limited in your transaction and on your credit card statement).
WHAT HAPPENS NEXT?
Your booking will be confirmed by email (if you have not received a confirmation within 24 hours, feel free to email info (at) socialmedia.org.nz).
On the first day of the course you will be supplied by email with login details.