Kiwis spend more time on Facebook* than anywhere else on the Internet. So are you keeping watch on your competitors and what they're doing on the social giant, or are you in the dark?
*An average of 8 hours & 7 minutes a month, according to Nielsen Online Ratings (June 2016).
Considering the significance of Facebook as a destination for New Zealand audiences, it's amazing how little attention NZ marketers pay to monitoring what's going on in the medium.
You really should be tracking:
what exactly your competitors are doing on Facebook
how often they post updates
which of their posts (if any) have really resonated with their followers
how effective their posts are in terms of generating engagement and interaction
how your own Facebook page stacks up in comparison
FACEBOOK COMPETITIVE ANALYSIS – BENCHMARK REPORT
To help Kiwi marketers develop a much better understanding of the ways in which their competitors are using Facebook, we've developed a Facebook Competitive Analysis Report which provides a comprehensive analysis of your category.
This competitive evaluation of the Facebook performance of the competitors in your category will be based on a specific list of your competitors, and will also identify the leading performers in your category in other English-speaking markets, drawing on our database of more than 150,000 Facebook pages from New Zealand, USA, UK, Canada and Australia.
For example, in the Real Estate category, from our sample of 2320 NZ real estate pages we have established that the average NZ real estate page has 372 likes, but with just 4.49 people talking about a typical page (1.21% engagement).
In comparison, across 2270 Australian real estate pages, the average is 1202 likes, with 7 people talking (0.58% engagement).
We then report on the Top 20 Facebook pages in your category in NZ, the USA, UK, Canada and Australia, in terms of (a) Total Likes; (b) Numbers of People Talking About The Pages; and (c) Most Engaged Pages.
Here, for instance, are some of the raw results from our Real Estate Analysis: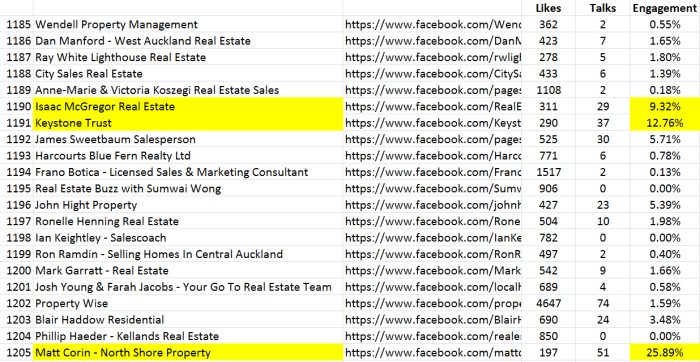 Note the Engagement stats for three of the best-performing Real Estate pages (highlighted in yellow).
INSIGHTS
Once we've crunched all the numbers, we drill down even further. We review the most effective posts by the most engaged organisations in your product category and identify:
the strategies they've used
how successful they've been in encouraging engagement
ideas that you can steal and adopt for your own activity
For example (sticking with our real estate category), we've uncovered:
killer wording that almost forces prospects to like and engage with your page
a strategy that turns a dollar donation into a compelling engagement tool
a tactic that you simply must not use — because you're attracting totally unqualified leads
a truly delightful content strategy that really pays off and proves the power of words
a low-cost but dramatically effective way to use Facebook video
For example, here's a reward-based approach used by one of the real estate agents we singled out above as having a high engagement score:
RECOMMENDATIONS
As well as the Insights gleaned by examining the top performers in your category, we'll also report on the 16 most effective viral strategies we recommend for Facebook marketing, and suggest ways that YOUR BRAND can take advantage of each relevant strategy.
We will also recommend the type of content on which you should focus most of your attention – content that best represents a combination of your expertise and relevant visitor interests.
For example, STORY-TELLING is an extremely powerful viral strategy, and one that Australian real estate agency Earnshaws uses to bring to life what might otherwise be pedestrian property listings.
PRICING
As you can imagine, this whole Competitive Analysis process requires a lot of individual effort and attention, and draws on our extensive knowledge of, and experience with, social media marketing.
Up until now, we have conducted such analyses as part of a comprehensive marketing audit for which we charge several thousand dollars.
For the Facebook Competitive Analysis Report as a standalone service, we could easily charge $1500 or more, and that would be a fair return on the effort involved.
Still, since this (as a standalone service) is a new project for us, we're looking for some social proof in the form of very satisfied customers. So we've decided to offer our Facebook Competitive Analysis Report at a very enticing $999+GST.
SPECIAL INTRODUCTORY OFFER

We're going to slice even more off that pricetag, but only for the first five clients.
If that's you, you can sign up for our Facebook Competitive Analysis Report, for just NZ$699+GST.
Yes, that's a further $300 savings. And yes, this is a classic direct marketing strategy — deep discount, limited availability — and it's a "classic" because it works and keeps on working. In this instance, the strategy means an awesome deal for you.
To sign up for our Facebook Competitive Analysis Report programme, just click here: http://bit.ly/fbcompet
You'll be taken to our PayPal payment page, where you'll be asked to provide your name and email details and to pay for the programme.
If you're one of the first five to sign up, the PayPal payment page will show a rate of NZ$699+GST. If you're too late, the rate will automatically switch to NZ$999+GST — not as good a deal as the early birds got, but still great value for money.
If you would prefer to pay by bank deposit, or require an invoice, please send an email to [email protected] with your requirements.
WHAT HAPPENS NEXT?
You'll receive our emailed confirmation of your booking (normally fairly quickly, but please do allow up to 12 hours for us to get back to you). Then we'll be in touch to provide you with some questions regarding your Competitors, your category and your Target Audience.
FOLLOW-UP PROGRAMME
We won't just complete the Facebook Competitive Analysis Report and then leave you to your own devices. We do have several follow-up programmes that we will discuss with you as part of our recommendations, including ongoing monthly category monitor & social media content provision.
FINAL CALL TO ACTION
Want to take advantage of our Facebook Competitive Analysis Report to make your social media activity more effective?
Sign up today — be one of the first five to take action and

grab this valuable competitive intelligence at an awesome bargain price

, just $699+GST!