An Invitation to New Zealand's Leading Marketers
Join us in this sponsored thought leadership project, featuring insights from many of NZ's leading marketers and communications professionals. It's an opportunity to reinforce your position as a thought-leader in your category.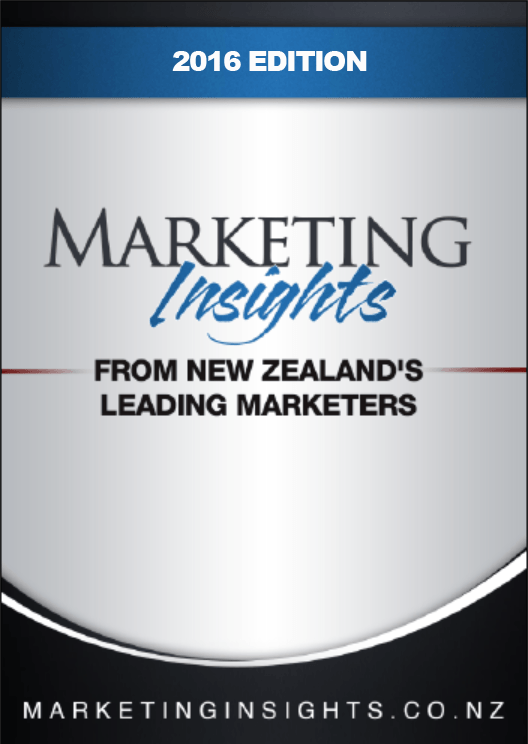 MARKETING INSIGHTS
from New Zealand's Leading Marketers
As the title suggests, MARKETING INSIGHTS is a new book collecting advice and opinion from leading NZ marketing professionals, enabling them to demonstrate Thought Leadership in their category. This is a content marketing project featuring sponsored contributions from many of New Zealand's leading marketers.
The first edition will be published in late January 2016 and will be distributed free of charge in electronic form to a wide range of New Zealand marketing decision-makers, from small, medium and large organisations. The book will also be available to purchase in printed form a short time later.
Topics which marketers are invited to contribute include:
Marketing Trends, Challenges & Opportunities in 2016
CONTENT PARTICIPATION
This is a sponsored Content Marketing project. Marketers are invited to sponsor an article on one of the above topics and provide 500-1000 words on the agreed topic. All topic selection is subject to availability at time of booking. Relevant images are welcomed (high-resolution please).
A fee of $1295+GST applies for each sponsored contribution, due January 31 2016. However this fee reduces to $995+GST for payment in full received by December 31 2015.
All sponsored articles will include:
Author Credit
A sponsorship box at the end of the article, featuring the name & logo of your organisation, along with phone, email and website details.
The article can be written on your behalf, based on the topic you choose and featuring any key copy points that you wish to specify. Writing fees are $400+GST for 500 words, $750+GST for 1000 words.
Limited advertising may also be available in the publication.
Topics shown above are available on a first-come, first-served basis. Other topics may be proposed by sponsors and will be considered by the publishers.
Our booking deadline is December 21 (although you are advised to BOOK EARLY to secure your choice of topic) and our deadlines are December 31 (if you wish us to write the copy) or January 12 if you are providing complete copy.

DISTRIBUTION
This book will be distributed initially as an ebook, offered free of charge via email, to New Zealand marketing decision-makers on our 1600-strong marketing database, to 3000+ current and former participants in our online marketing courses, and also via marketing blogs and social media and through participating industry associations and trade media. It will also be made available to members of at least a dozen NZ LinkedIn business and marketing groups with a combined membership of more than 50,000 Kiwi business people.
The ebook will also, of course, be available for contributing sponsors to distribute freely to clients and prospects.
The book will also be available in printed form on an on-demand basis. The book will also be available for purchase via Amazon.com.
To participate, email us at michael (AT) netmarketingservices.co.nz