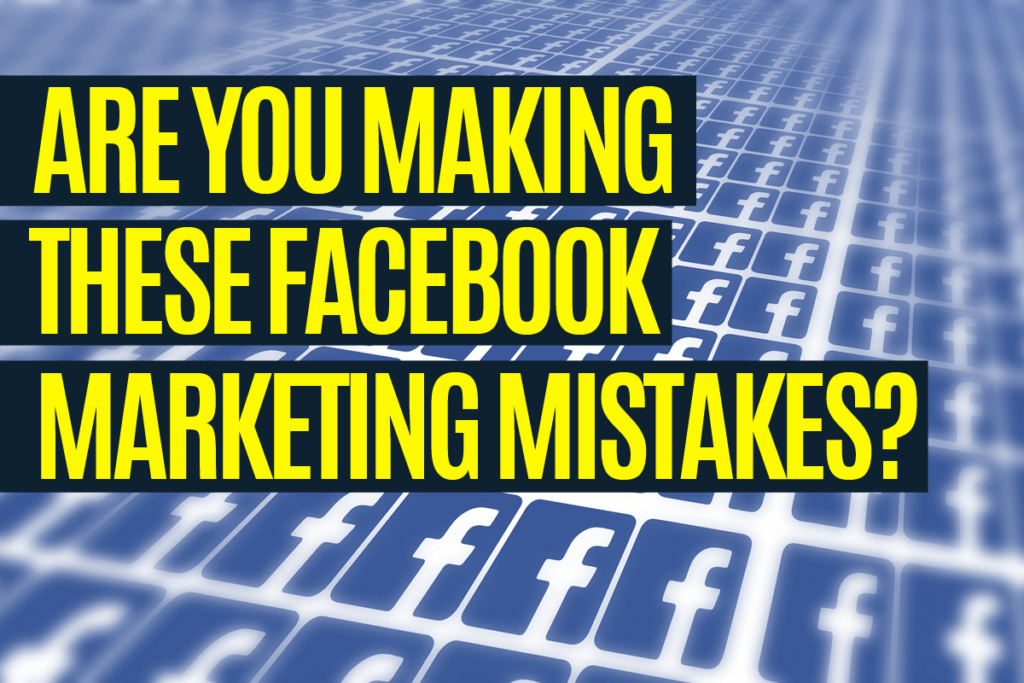 Just how well are YOU really doing on Facebook? Are you making classic mistakes like these:
1. Too much self-promotion
Do your Facebook posts only talk about You, You, You?
As Jeff Bullas notes:
It is okay to share your achievements with your loyal followers but you should never overdo it. If you are not offering value to your visitors or are not providing them with the information they are looking for, you're missing out a lot. People spend time on Facebook to get entertained, inspired and interact with like-minded people. So in order to promote your brand, you should find innovative ways that inspire visitors and give them a reason to connect.
If you become too promotional, you will soon see the 'Likes' turning into 'Dislikes'.
Here's a typical example, from Acer Australia & New Zealand: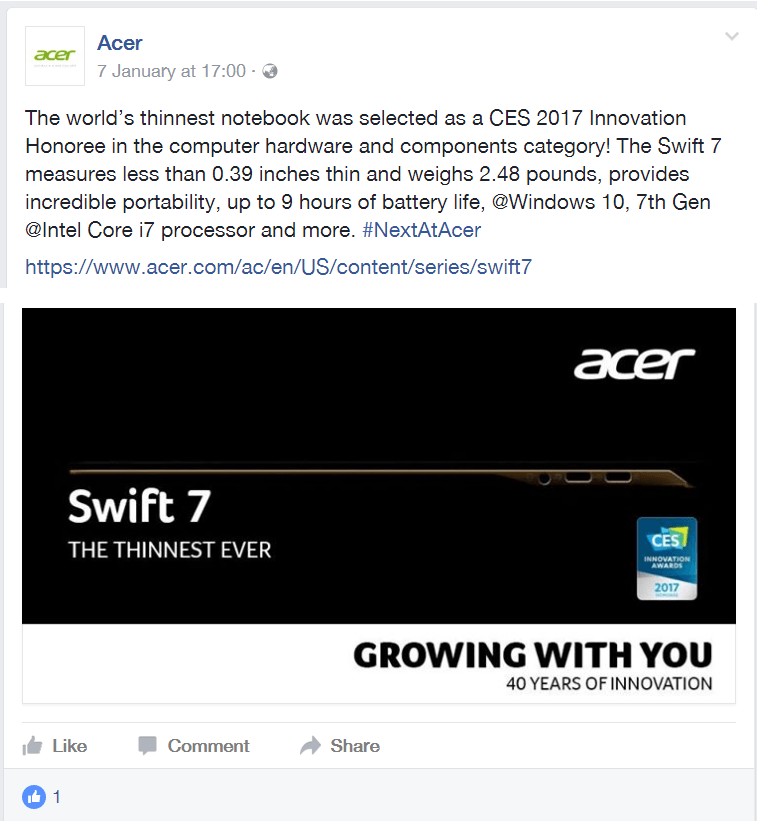 The local page has more than 50,000 total likes, but this post (a typical recent example) could only attract one thumbs-up.
We're not picking on Acer — it's just a typical big brand example, seeing Facebook as yet another broadcast mechanism rather than a chance to interact with customers.
2.  Being Boring or Predictable
As Leyl Master Black observes:
When they're thinking about marketing, some business owners forget that Facebook is a social place where people share things they find funny, interesting or useful with their friends. Think about what kind of content your fans would actually want to share when planning your posts.
Peter Shankman, social media consultant, entrepreneur and author of "Customer Service: New Rules for a Social Media World", also cautions against becoming too predictable. "Status updates by themselves get boring. But then again, so do photos, videos and multimedia as a whole. Your job is to mix it up. The moment you become predictable, boring or annoying, they'll hide you from their feed. So keep it varied and personal—a video here, a photo here, a tag of one of your fans here."
Creating too much "filler" content by auto-publishing content from your blog or Twitter feed can also derail your efforts. Joseph Manna, community manager at Infusionsoft, recommends using Facebook's native publishing tools to gain the most benefit from Facebook.
"Whatever you do, don't automate everything," says Manna. "It's nice to 'set and forget,' but the risk is two-fold: publishing systems sometimes have issues, and Facebook places low-priority on auto-published content."
Here are a couple of GOOD examples of a local driving school changing things up and providing interesting content while still staying relevant to their product category: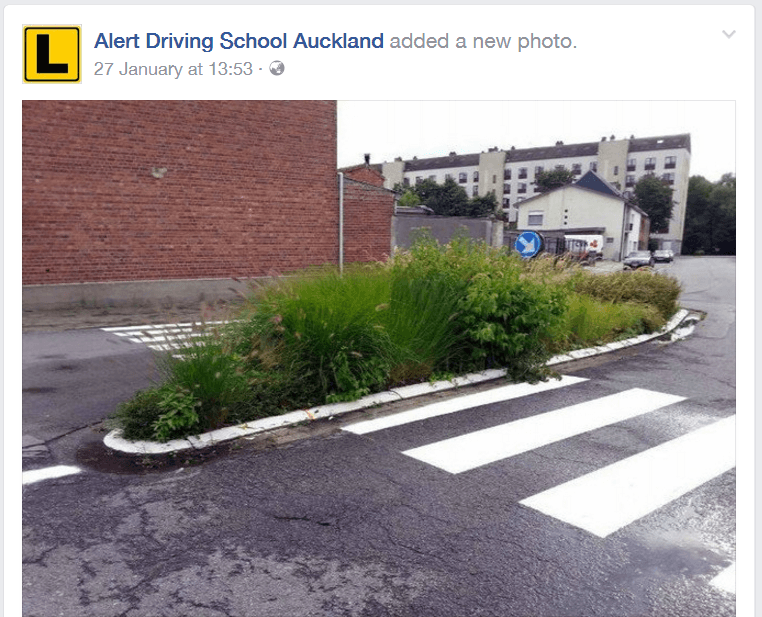 And: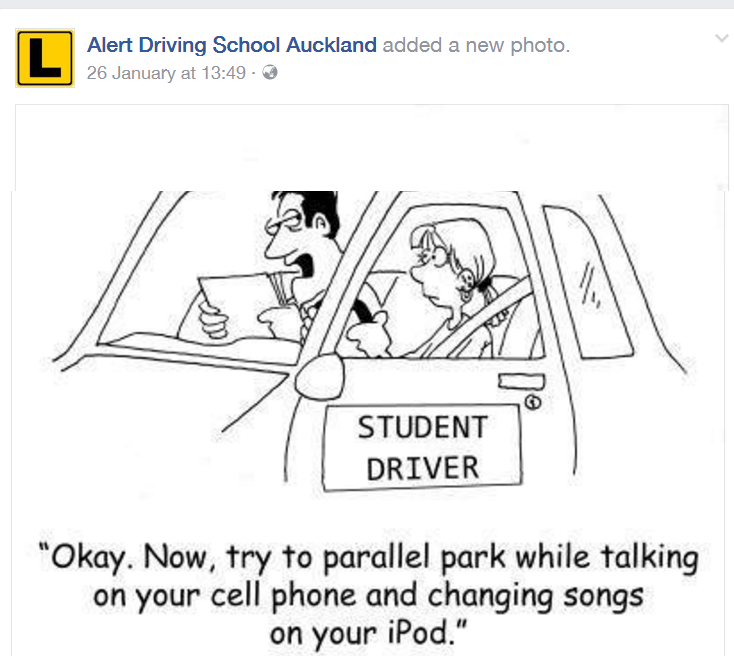 Some more common mistakes, as identified by Dummies.com:
3. TLDR
A study by BuddyMedia found that status updates of less than 80 characters received a 27 percent higher reaction than longer updates. This makes sense when you think about how you use Facebook and how fast the News Feed flies by.
Too Long: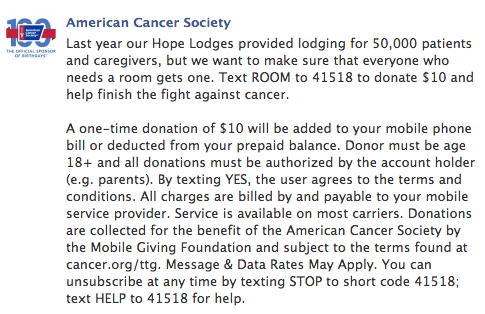 Posting lengthy paragraphs as a status update is like giving your Facebook fans homework. On the other hand, short updates such as questions and short polls get a higher reaction simply because the barrier to participation is very low.
Much better: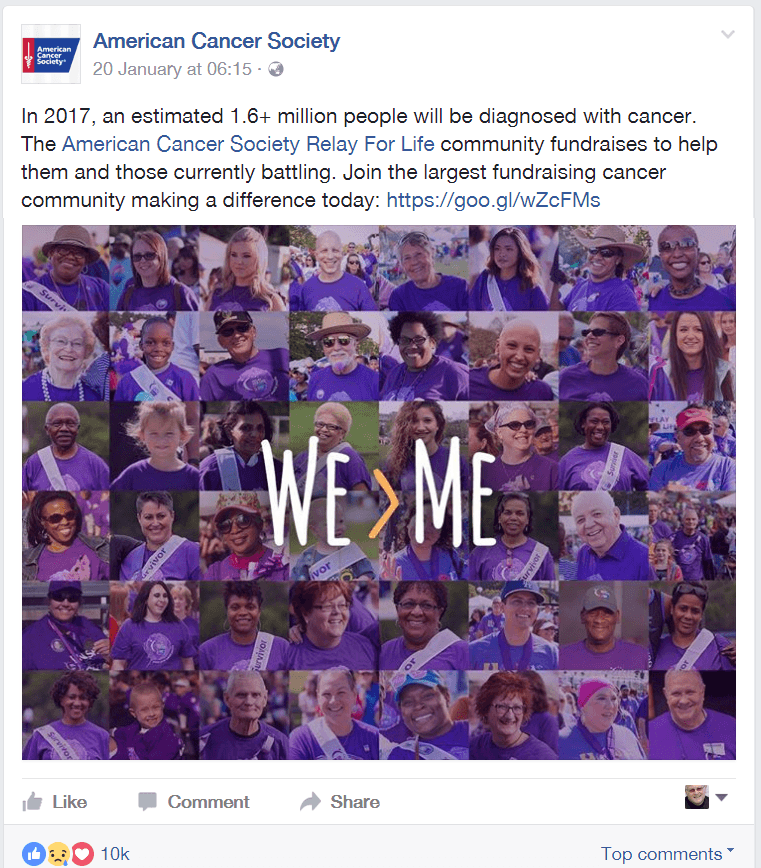 4. Ignoring Comments
Facebook fans are people, like you. If they make the effort to leave a comment or reply within a thread on your Facebook Page, they want to know that you're listening. Pages that consistently ignore posts by fans aren't as successful as Pages that participate in comment threads. Fans are less likely to return if they don't feel heard.
The other reason why you want to reply to posts from fans is that Facebook sends that fan a notification, bringing him back to your Page!
Here's an unfortunate  Twitter example (dating back to 2013 and hopefully resolved these days) of customer service only during working hours: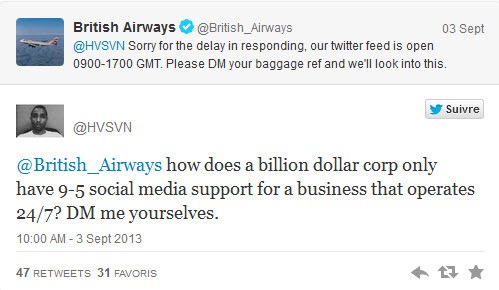 Need help to avoid these Facebook mistakes? Check out our Facebook online training courses:
Facebook Accelerator Programme


So you have a few hundred (or a few thousand) followers on Facebook but now you want to know how to get to the next level? Our Facebook Accelerator seven-part online course will lead you through the steps necessary to supercharge your Facebook presence and get Kiwi consumers engaging with you and your brands.

For more details of the Facebook Accelerator programme, please click here.
The Complete Facebook Marketing Course


For those who wish to master Facebook Marketing in its entirety, we've created a ten-week online training programme which will take you from absolute beginner on Facebook to highly effective Facebook communicator.

For more details of the Complete Facebook Marketing programme, please click here.