If you market products or services to businesses, your most effective marketing and sales tool just might be a Thought Leadership program.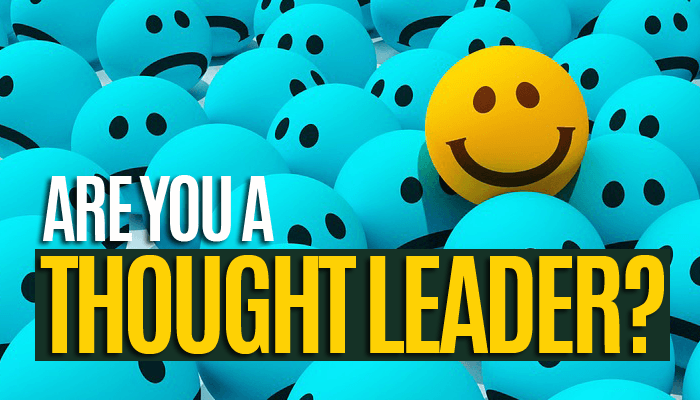 What exactly is a Thought Leadership program and why do you need one?
As you're no doubt aware from your own experience, most business buyers (87%, according to a recent survey) conduct their own research long before they contact sellers.
They search online, they talk to colleagues and ask for opinions from their peers and from other influencers – and they do all this homework long before they ever talk to companies selling the products they're considering.
In order to be noticed by sellers and added to their consideration set, you need to become a "Thought Leader" — someone who has established themselves and their organisation in the mind of their marketplaces as the market leader and driver. Thought Leaders help to shape the values, metrics and perceptions of their marketplaces.
To be a thought leader, you need to voice your opinion, share your knowledge and provide value to the communities you care about. But, in order to do so, you need to first define your message, determine who you are targeting and then create valuable and relevant content of interest to the point at which they are in their pre-purchase cycle.
WHAT THE BUSINESS CUSTOMER WANTS TO KNOW
Prospects typically go through three different stages in the pre-purchase cycle:
STAGE ONE: IDENTIFYING NEEDS
Prospects who are new to the product or service category typically spend time defining the scope of their organisation's needs and determining exactly what categories of products might be appropriate to meet those needs.
STAGE TWO: RESEARCHING SOLUTIONS
Second stage searchers start to move from Need Identification to an understanding of the range of products available. In the process, they compare solutions, start to determine which products they should be considering and establish preliminary specifications for their purchase.
STAGE THREE: RESEARCHING SUPPLIERS
In the third pre-purchase stage, prospects identify potential suppliers who offer suitable products and then review the credentials of those suppliers.
BECOMING A THOUGHT LEADER
To establish yourself as a credible Thought Leader, you need to:
understand your prospects and their specific needs
understand how your products or services can meet those needs
create a plan to develop assets and materials that can be offered to prospects, to establish your credentials and your credibility
OUR THOUGHT LEADERSHIP PROGRAM
We have been developing thought leadership programs for a number of years, for ourselves and for a small group of clients. We recognise that there are a great many other organisations out there that could also benefit from an effective thought leadership program.
Accordingly, for a limited time and for a limited number of organisations, we are offering to develop a Thought Leadership Program analysis and implementation plan on your behalf.
Our analysis, in conjunction with focussed interviews (by email/phone) with you and/or key members of your team, will establish:
who your most likely prospects are, and which role/s they play in their organisations
their specific product/service needs
what they need to know (at each stage of their product investigations) to best meet those needs
how your own products/services can best be positioned as meeting those needs
what types of communications would best serve to provide prospects with the information they require to aid with their decision-making
upcoming external events of interest and relevance to your target market
competitive activity in the local and regional marketplace
primary industry & category keywords
keywords & topics used by competitors
influencers whose opinion matters to your target market
needs & wants most expressed by clients
based on information gathered using preceding processes, determine the primary content themes that should be the focal point for the next six to twelve months
We will then provide you with a comprehensive recommended Thought Leadership Program which will map out the steps required to establish your organisation as a thought leader and preferred, credible supplier in your industry.
And yes, we can also provide the necessary resources to actually implement the recommended Thought Leadership Program, which we can discuss once we provide the recommendation to you; or of course you can implement the program yourself or through your existing marketing partners, if you prefer.
Given the amount of time and effort that we put into each Thought Leadership Program development project, we should charge at least $5000+GST for each program — that would be a small price to pay for such a service, to help ensure that your organisation's position in the marketplace is the best that it can be. And, in fact, clients have happily paid us similar fees to determine their thought leadership needs.
As an introductory offer as we make this service publicly known, we've decided to offer our Thought Leadership Program development service for just $1747+GST — but this offer will be available only to the first three clients . Orders will be processed on a first-come, first-served basis, so please don't miss out.
To reserve your Thought Leadership Program development, please pay by credit card through PayPal by clicking here: http://bit.ly/thoughtleadershipprogram
If you are not one of the first three to apply, this link will redirect to a Waiting List page.
ABOUT US
This Thought Leadership Program is offered by Netmarketing Services Limited, a digital marketing and training consultancy headed by long-time marketer Michael Carney.
Michael has been in the marketing game since 1971, online since 1987 —  and can be variously described as a digital marketer, trainer, content marketer, adman, media director, strategist, insights analyst, copywriter, consultant, playwright and dad.
He is probably best known for his many years as Media Director of a number of leading NZ advertising agencies, including MDA Mackay King (now Saatchi & Saatchi) and HKM Rialto (since merged with Colenso BBDO). More recently he worked in strategic roles with MediaCom New Zealand and Grey Worldwide and was Strategic Planning Director for the Media Counsel.
In 2010, Michael set up Netmarketing Services Limited, an organisation which provides a range of marketing services to a small group of clients, including strategic planning, marketing audits, content marketing, SEO, website enhancement and other digital marketing offerings and thought leadership services.
The company provides online training services for Kiwi marketers, including courses covering Social Media Marketing, Mobile Marketing and eCommerce.
Michael is the author of "Trade Me Success Secrets: How To Buy and Sell Effectively on NZ's Favourite Auction Site", now in its second edition.
He was chairman of the NZ Marketing Association's Network of Digital Marketers from 2009 until March 2013.