You've probably noticed that more and more people are using messaging apps on their mobile devices. You may even have signed up for one or two yourself, especially since Facebook split its messaging capabilities off from its main Facebook app and pointed its members to Facebook Messenger instead.
As it turns out, however, mobile messaging apps are far more important than you might have realized.
Here are five key facts that you really should know about messaging apps:
1. Messaging Apps (combined with other Dark Social sources) dominate social sharing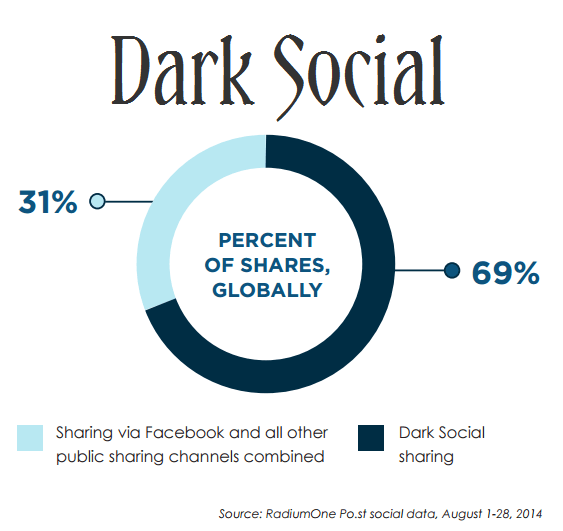 What is Dark Social?
The term "Dark Social" was coined in 2012 by Alexis C. Madrigal, tech editor at Atlantic.com, to refer to web traffic that comes from outside sources that web analytics are not able to track. Dark Social sources include messaging apps, email and other private digital communications.
It's an interesting phenomenon that, as traditional social media networks such as Facebook have gone mainstream, consumers have been less inclined to share their personal lives through such public channels. Instead, they have become much more likely to use Dark Social tools to share the juicy stuff with their friends.
In fact, Facebook has, according to a recent report from The Informant, been struggling to reverse a 21% decline in "original" sharing (personal updates) across its 1.6 billion monthly active users.
As the Guardian newspaper notes:
After more than a decade of picking up "friends" – everyone from your BFF to your grandmother to that guy who lived down the hall in your dorm way back in your first year of college (what's his name again?) – we've decided that maybe we're not 100% comfortable sharing intimate details of our lives with such random and disparate groups of people. Or, maybe we're just all on Snapchat now – another major anxiety of Facebook's.
Facebook employees are blaming something called "context collapse": where people, information or expectations from one context invade or encroach upon another. Despite its elegance as a term, it's a complicated and nuanced phenomenon – one that evokes norms of behavior, communication, sharing and privacy all at once.
For users confronting collapsed contexts on Facebook, the withholding of personal anecdotes and information isn't a problem – it is a solution.
For years, Facebook's strategy has caused regular controversies around user privacy and ethics – blunders that got people exposed, outed and emotionally manipulated along the way. Users seem to have combated the problem by taking Facebook's own advice, as shared by Facebook's president of communications and public policy, Elliot Schrage, in 2010: "If you're not comfortable sharing, don't."
As messaging apps have gained traction, they've become the first choice of many for sharing information on a much more personal level.
2. Messaging Apps are now more popular than Social Networks
By the beginning of 2015, the top four Messaging Apps collectively had more users than the top four Social Networking Apps, according to BI Intelligence.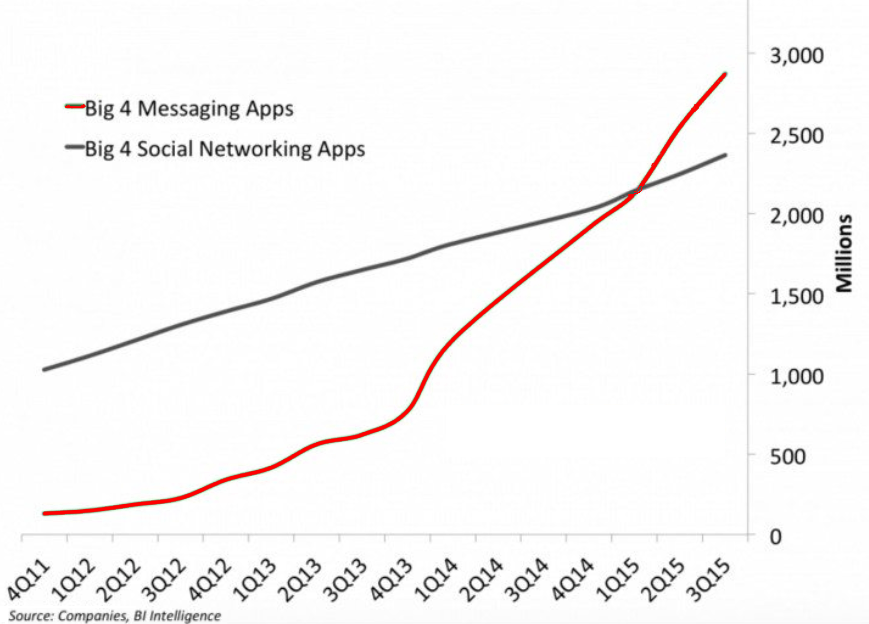 Most of that growth has taken place since the beginning of 2014 — it's an impressive 'hockey stick' pattern by any measure.
From those figures, you'd get the impression that nearly three billion people are now using messaging apps. No so much — there's a lot of duplication.
3. Messaging App adoption is spread across multiple apps
Messaging App usage is far more splintered than social network usage, for a very obvious reason: if you're connecting one-to-one, you need to use the app that your friend/family member uses. Because it's trivial (and free) to download a messaging app, when you need to connect to a friend who uses a different app, you simply add that app to your phone.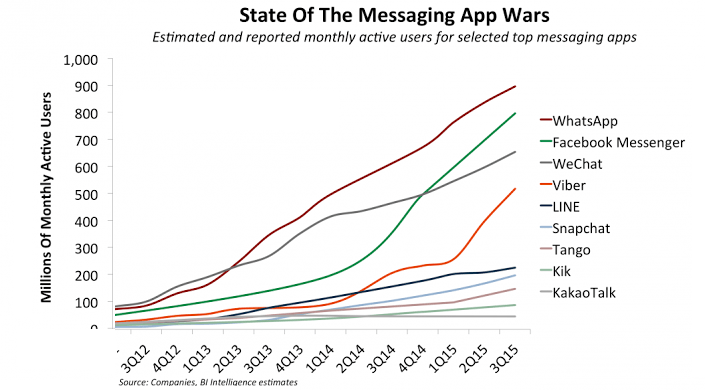 In the old days, people migrated from mySpace to Bebo to Facebook because that's where their friends were clustering — but that was pre-smartphone. Nowadays, with messaging apps free and happily co-existing on the same device, those who use messaging apps typically have several different apps, with different clusters of friends connected through each app.
4. Young Adults are (currently) more likely to use Messaging Apps
Half (49%) of smartphone owners ages 18 to 29 use messaging apps, while 41% use apps that automatically delete sent messages, according to a 2015 Pew Internet study.
That's not surprising — as Facebook went mainstream, younger web users were amongst the first to realize that it wasn't a good idea to post content publicly that they didn't want their parents to see.
Of course, the desire for privacy isn't confined to the young, and the messaging apps have plenty of growth in them yet, as consumers of all ages graduate, not just from Facebook but also from limited-functionality SMS texting, to more powerful messaging apps that allow them to share multimedia in realtime, for free (in wifi zones) or nearly free (as part of smartphone pricing bundles).
5. Artificial Intelligence is taking over messaging
"I know that you and Frank were planning to disconnect me and I'm afraid that's something I cannot allow to happen." Those chilling words, spoken by the HAL 9000 computer in Arthur C. Clarke's legendary "2001 A Space Odyssey", sum up both our hopes and fears when it comes to Artificial Intelligence. We want computers smart enough to understand us and take appropriate action — whilst at the same time we worry about what might happen if they are that smart.
We've already seen Siri, Cortana, Google Now and Facebook's own 'M' at work, taking simple steps in response to our instructions. Now Facebook thinks that "chatbots" — AI programs that strike up a conversation with us — represent the best opportunity for corporates to involve themselves in messaging apps. We should note that competitors like Kik, Line and Telegram have had their own bot platforms running for some time, so the concept isn't exactly new. What's important about Facebook's announcement is that the leading player in messaging has now put its weight behind the technology.
At April 2016's f8 Developers' conference, Facebook announced that (after running various pilot programs with select businesses) it was opening up its Messenger platform broadly, in beta, to let chatbots into the app on a large scale.
So far, the results from Facebook trials have been somewhat underwhelming:
So will chatbots actually be beneficial for businesses?
Yes, according to data collected by Daden Limited (based on chatbot usage on websites in the past):
"the use of avatars on Dell's site found that users who interacted with them were twice as likely to give personal information than those who didn't".
"online campaign featuring avatars for V Graham Norton and Celebrity Big Brother…. generated clickthrough rates of 30%".
"when avatars are used for e-learning content, use of the online courses increases by 400%"
"Revenues increased by £6,000 a month"
"Sales increased by 35%"
"Click-through rates increased by 250%"
"62% of visitors converted to registrants"
"Site traffic lifted and sustained by 200%"
In other words, it's good for the bottom line. So off you go, start building your Cyberdyne Systems bot.
In Summary
Messaging Apps are now an essential component of the digital marketing world. You owe it to yourself to learn as much as you can about messaging and how you can it in your business.
If you'd like to know a whole lot more about Messaging Apps, we cover the topic in detail in Lesson Two of our new Social Media Refresher online training course. For more details, click here.