It's been apparent for the last couple of years that posts to Facebook Business Pages are being seen by fewer and fewer page followers. In October 2012, the Dangerous Minds blog published its (unhappy) views on the trend:
Spring of 2012 was when bloggers, non-profits, indie bands, community theaters, photographers, caterers, artists, mega-churches, high schools, tee-shirt vendors, campus coffee shops, art galleries, museums, charities, food trucks, and a near infinite variety of organizations; individuals from all walks of life; and businesses, both large and small, began to detect—for it was almost imperceptible at first—that the volume was getting turned down on their Facebook reach. Each post was now being seen only by a fraction of their total "fans" who would previously have seen them.
But it wasn't just the so-called "fan pages," individual Facebook users were also starting to notice that they weren't seeing much in their newsfeeds anymore from the various entities they "liked"—or even updates from their closest friends and family members. Something was amiss, but unless you had a larger "data set" to look at—or a formerly thriving online business that was now getting creamed—it probably wasn't something that you noticed or paid that much attention to.
When we first noticed the problem, our blog had about 29,000 Facebook "likes." Our traffic was growing 20% month over month, but our Facebook fans grew at a far faster pace. We were getting hundreds of new 'likes" every day. Still do. As I write this, our Facebook fans now number over 53,000, not quite double what it was then, but give it another month or so and it will be.
53,000 is a more than respectable number of Facebook fans for a blog that's only been around for a little over three years. So why is it that our pageviews—our actual inventory, what we sell to advertisers—coming from Facebook shares are off by half to two thirds when the number of new "likes" has risen so dramatically during this same time period?!?!
In a widely read—and widely shared on Facebook—NY Observer article titled "Broken on Purpose: Why Getting It Wrong Pays More Than Getting It Right," (emailed to me by a friend, a prominent blogger, with the subject line: "Why putting a lot of energy into building a Facebook presence is a sucker's game") PR strategist and social media expert Ryan Holiday succinctly laid out the case against the damage Facebook had inflicted upon its most active users with its recently rolled out Promote "option":
It's no conspiracy. Facebook acknowledged it as recently as last week: messages now reach, on average, just 15 percent of an account's fans. In a wonderful coincidence, Facebook has rolled out a solution for this problem: Pay them for better access.

As their advertising head, Gokul Rajaram, explained, if you want to speak to the other 80 to 85 percent of people who signed up to hear from you, "sponsoring posts is important."

In other words, through "Sponsored Stories," brands, agencies and artists are now charged to reach their own fans—the whole reason for having a page—because those pages have suddenly stopped working.

This is a clear conflict of interest. The worse the platform performs, the more advertisers need to use Sponsored Stories. In a way, it means that Facebook is broken, on purpose, in order to extract more money from users. In the case of Sponsored Stories, it has meant raking in nearly $1M a day.
Fast-forward to 2014 and Facebook's organic reach continues to decline. Not only that but, according to a recent white paper published by [email protected], we can expect organic reach to drop all the way down to zero, sooner rather than later:
Organic reach of the content brands publish in Facebook is destined to hit zero. It's only a matter of time.
In 2012, Facebook famously restricted organic reach of content published from brand pages to about 16 percent. In December 2013, another round of changes reduced it even more.
By February 2014, according to a [email protected] analysis of more than 100 brand pages, organic reach hovered at 6 percent, a decline of 49 percent from peak levels in October.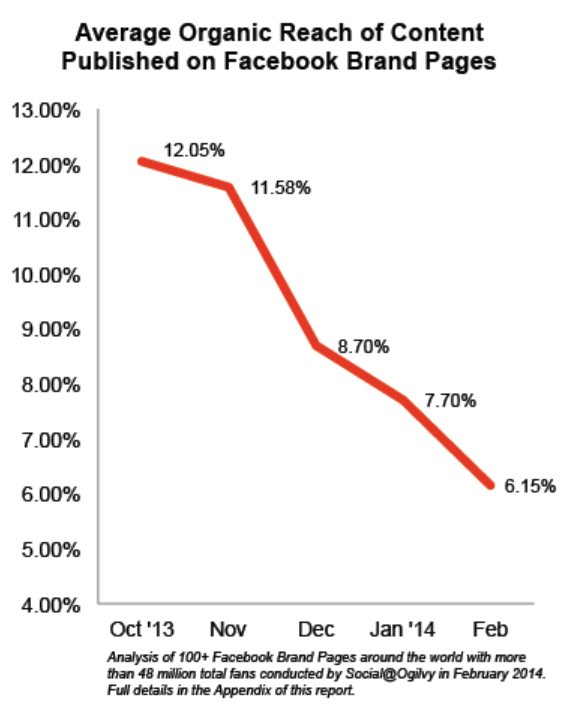 For large pages with more than 500,000 Likes, organic reach hit 2 percent in February. And Facebook sources were unofficially advising community managers to expect it to approach zero in the foreseeable future.
The ability to build communities of fans, and then maintain contact and encourage engagement using content published to fans' News Feeds was a critical aspect of Facebook's early appeal to marketers. The opportunity of achieving engagement at scale motivated many brands and corporates to invest millions in developing communities and providing for care and feeding via always-on content.
With the impending end of organic reach, what are the consequences for marketers and others who use Facebook to connect with their communities? How can brands and corporates get the most from Facebook in the future? Is Facebook still a driver of "earned" conversation and word of mouth? Or is it just a straightforward paid channel? How should communities approach content and engagement going forward?
This isn't an academic exercise. Facebook Zero is a reality now facing every brand and business with a presence on the platform. Action is required, and specific decisions will need to be made with regard to content planning, paid support for social media activities, audience targeting and much more.
Our own analyses support the [email protected] calculations. Across our database of 27,444 New Zealand Facebook pages, as at March 1 2014, we found that:
NZ pages with more than 100,000 Likes were talked about in the preceding seven days by just 2.78% of their followers
NZ pages with less than 100,000 Likes were talked about by 5.82% of their followers
Big problem or just a fact of life? Marketing Week UK was less than sympathetic:
If marketers want success on Facebook, sorry, but you have to pay. This shouldn't come as a shock or a disappointment. When was the last time you saw ITV offer a free 30-second spot, or The Guardian hand over a cover wrap because they sympathised that a brand had spent years building up a community among its readers? Marketing success on Facebook is no different to anywhere else: it requires ruthless media spend, efficient targeting and fantastic creative.
Getting Your Followers Talking About You
So what should you do? Simply abandon your carefully-constructed Facebook presence? Or pay every time to reach your followers?
In the latest update to our Facebook Accelerator and Complete Facebook Marketing courses, we tackle the issue head-on, and recommend that you:
use Graph Search to learn more about your followers and the sort of content that will interest them
identify the types of posts that your followers are most likely to share
create more of those types of posts
create posts in styles and formats that encourage more engagement
identify when your followers are most likely to be active on Facebook
publish your posts at those times
post more frequently than in the past
pay to promote the best of your posts to your followers
bump evergreen popular content
aim to drive Last Actor engagement as much as possible
crunch your numbers regularly to see exactly how well you're doing (and whether or not you're fulfilling your potential)
For our advice on exactly what all this means and how to implement the programme effectively, check out our courses:
BTW, we've also added appropriate advice into our Advanced Social Media Marketing course, for those who want to learn more about not just Facebook but also Twitter, Pinterest, Instagram, Google Plus, YouTube and LinkedIn.