As you've probably heard, video is becoming more and more important for Social Media Marketing.
Want some numbers? Try these (from MediaKix):
Globally, traffic from online videos will constitute over 80% of all consumer internet traffic by 2020 (Cisco).
By 2019, the total U.S. digital video advertising spend is projected to eclipse $14 billion—nearly 50% of that figure ($6.86 billion) is attributed to mobile video.
The number of videos published by U.S. users has exploded, increasing by 94% from January 2014 to January 2015. For international Facebook users, the increase in Facebook videos published is a still-impressive 75% annual growth rate (AdAge).
In November 2015, Facebook hit 8 billion video views daily (TechCrunch), doubling its figure of 4 billion from April just 6 months earlier. Each video view is counted after 3 seconds of watch time. At a linear rate, Facebook was expected to eclipse 16 billion video views by May 2016.
Facebook Videos have increased 360% across everyone's News Feeds
And here are a few more stats, from Social Media Today:
One-third of all online activity is spent watching video
The average user is exposed to 32.3 videos in a month
75% of online video viewers have interacted with an online video ad this month
75% of executives watch work related videos on business websites at least once a week
36% of online consumers trust video ads
So video is becoming more and more important in social media marketing. What does that mean for you?
We'll tell you what that doesn't mean: you can't just add your TV ad to Facebook and call it a day. Sorry.
Unless you're Air New Zealand, of course, and have the mighty All Blacks for your talent pool, in which case you can simply get three million people to watch and 67,000 to share your inflight safety video …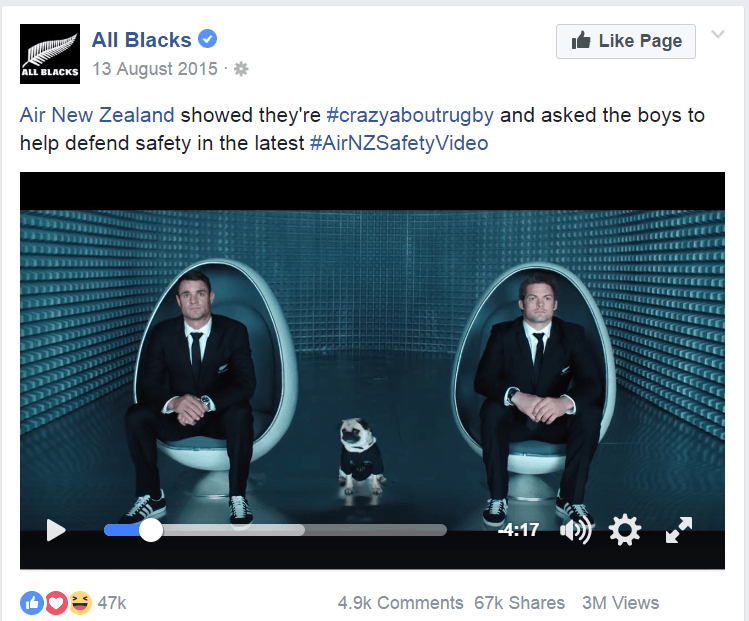 For us mere mortals, however, we've got to try a different angle.
Social Media Examiner offers up some timely advice:
#1: Produce the Right Video for Each Social Platform
Each social network has its own opportunity for video content. Before attempting to post videos on every platform, commit to mastering video on one or two networks first. You can easily incorporate video into your social media content by featuring your business's best content for each platform.
Facebook
As a social media giant, Facebook is among the essential video platforms.
When you plan video content for Facebook, understand what Facebook viewers actually enjoy. Captions are essential to Facebook video because most Facebook users watch video without sound.
According to Digiday, almost 9-in-10 Facebook videos are consumed without sound, a signal that brands should consider producing video content that can still be engaging, even in silence (Facebook). To that point, Facebook found that adding captions to videos increases the watch time by 12%, on average.
Facebook users also enjoy live video. Facebook Live video is watched three times as much as regular video content and continues to gain popularity. Viewers expect live video to be less polished, so you can produce it without a big-budget production team.
Instagram
On Instagram, you can add video to your story or post video to your feed. With Instagram Stories, you can stream live video or post a 10-second clip. Either way, your video stays on your story for 24 hours. Videos posted to your Instagram feed can be up to 1 minute long.
Because Instagram limits video length, planning for brief videos is important. This emphasis on short videos is different from other social media video networks. On Instagram, make your videos captivating, quick to digest, and direct.
This directness applies to your Instagram captions, too. Ensure your call to action is clear and concise and your captions support the story in your video content, not compete with it.
Ben & Jerry's are regular users of Instagram video, to mouthwatering effect
Twitter
Twitter's feed moves quickly, making it hard for organic Twitter content to stick. But when Twitter video connects with users, it can spread far and wide.
Twitter recently made live video available in the app, so you don't need to use or download Periscope. This move shows the demand for live video within the native platform and the general need for video content on social channels. In fact, a Twitter report revealed that 82% of users watch video content on the platform.
Because 90% of users view Twitter videos on a mobile device, make your Twitter content mobile-friendly and watchable on the average smartphone.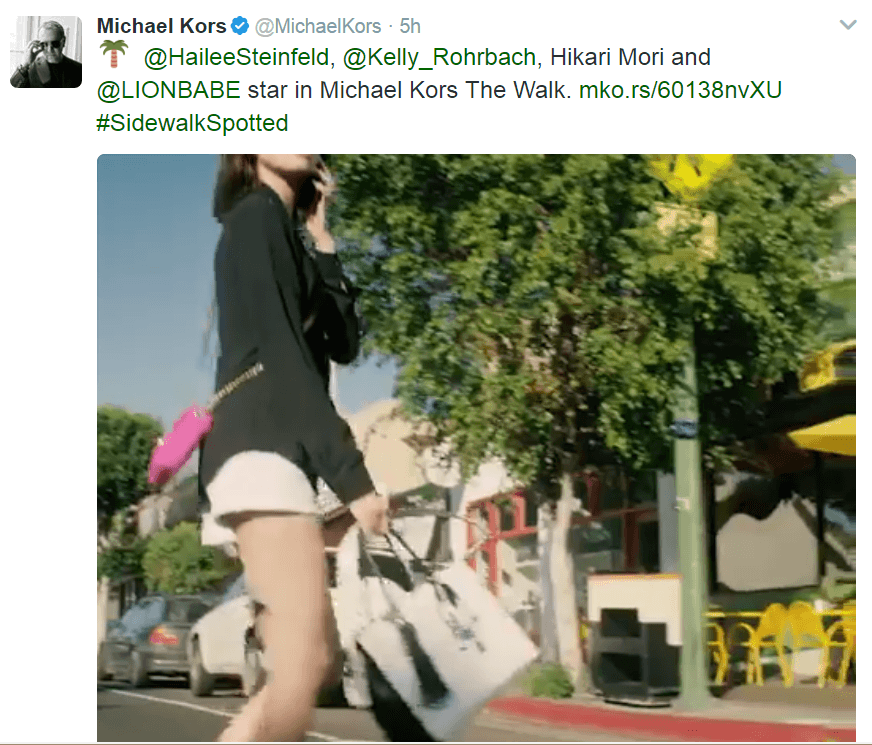 A Twitter video that's part of a campaign by Michael Kors
YouTube
YouTube is a better place for evergreen content than news or instant video. In fact, YouTube should be the place where your premium video content shines. Although the platform does have live video streaming, at the end of the day, quality execution is more important for YouTube, especially because videos on your channel can be recommended to users watching similar content.
YouTube marketing videos often have high bounce rates because they're too boring or dry. To improve your YouTube marketing, pique curiosity through storytelling.
On YouTube, content needs to keep users engaged until your sales pitch or call to action arises. You don't have to rush with your time limit, but you always have to consider social engagement.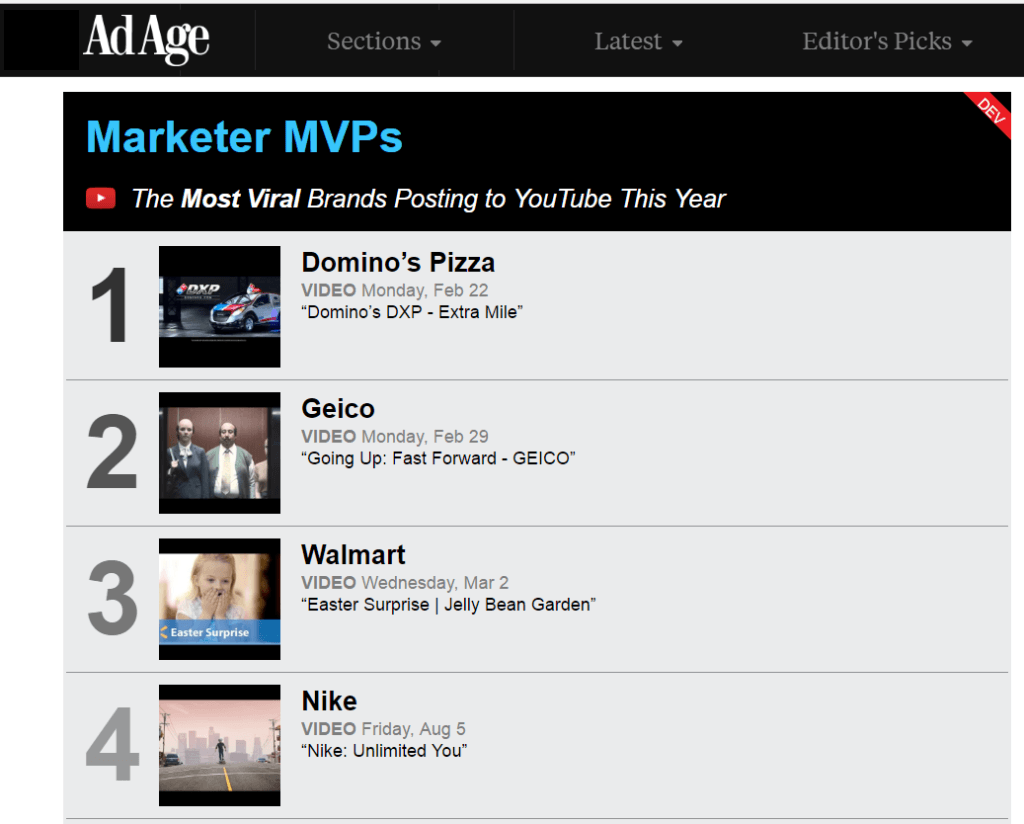 The most engaging videos on YouTube in 2016, according to research from ListenFirst Media.
Focus on ways to educate your audience before you start shooting. Rushed and poorly edited videos will drive users to the Back button. However, high-quality video can hold users' attention and drive traffic to your most important pages.
Snapchat
Just like Instagram, Snapchat is all about visual content. To increase video on this platform for your marketing, start by being active and producing plenty of content. Snapchat reports its users watch 10 billion videos per day, and Business Insider reports that active users spend an average of 25-30 minutes a day on the platform.
#2: Define Goals for Your Video Content
When you start to craft your video content strategy, you should first know the purpose of video for your brand. Is it aimed at increasing brand awareness? Is there an educational component? Are you going to be heavily promotional or produce newsworthy content?
Before getting started, think about what you want to gain from investing time and resources in creating video content. Some of the most important metrics to consider include:
Site traffic
View count (video plays)
Shares
Video completion
Brand awareness
Lead generation
Customer retention
After you establish your goals, plan what types of content you'll create to achieve those goals. Don't think about videos as one-off projects. Instead, think through campaigns and themes you'll cover and test over time. No matter what approach you choose, be consistent.
#3: Develop a Consistent Theme or Format
Building on the last tip, it's great to have a social video theme or common message to your content. When you know the purpose of your content and the style you're pursuing, think of a theme you can use to inform your video content.
#4: Invest in the Right Equipment for Your Budget
Most brands wanting to produce social media videos are stuck because of one major reason: cost. Cameras, microphones, lighting, editing equipment, and actors can add up quickly. If you're not careful, video can cannibalize your content-creation funds.
However, you can be money-conscious without sacrificing quality. For starters, try to do as much in-house filming as possible, because production companies can be costly. Check out rental options or even better, use your own devices. For example, this video explains how to create your own lighting setup for about $100.
Here are the essentials of shooting quality video for your company:
An affordable camera: Cameras on smartphones are just as powerful as some recording equipment. Don't waste your money on a brand-new camera when you have something highly useful in your pocket.
Simple lighting kit: Great lighting is essential when you're filming video. Try to invest in a standard lighting kit or build your own.
Quality microphone: If you've seen a low-budget commercial that makes you cringe, it likely had poor lighting and cheap microphones. Purchase a quality mic. Don't use the built-in mic on your smartphone.
Tripod: Your video needs to be stable and clear. Luckily, several tripods are built to fit your smartphone.
Social Media Today tells us about video marketing trends that matter in 2017. We've singled out these two as being of particular note:
1. The Rise of 360-Degree Videos
A recent case study by Magnifyre revealed something noteworthy about the 360-degree video format – the average percentage of people who viewed a 360-degree video was 28.81% higher than for the same video in a non 360-degree format. The case study also showed that twice the number of viewers watched the 360-degree video to completion.
2. Videos Watched on Multiple Devices
According to a Think with Google report, 85% of adults ages 18-49 use multiple devices at the same time. It also reports that two thirds of YouTube users watch YouTube on a second screen while watching TV. This tendency to watch videos across several devices (including TV) will probably increase.
It's Time to Upskill in Online Video Marketing
With all this stuff going on in online video (and this is only the tip of the iceberg), we reckon it's way past time for Kiwi marketers to upskill themselves in video marketing.
We have two courses that directly address the topic: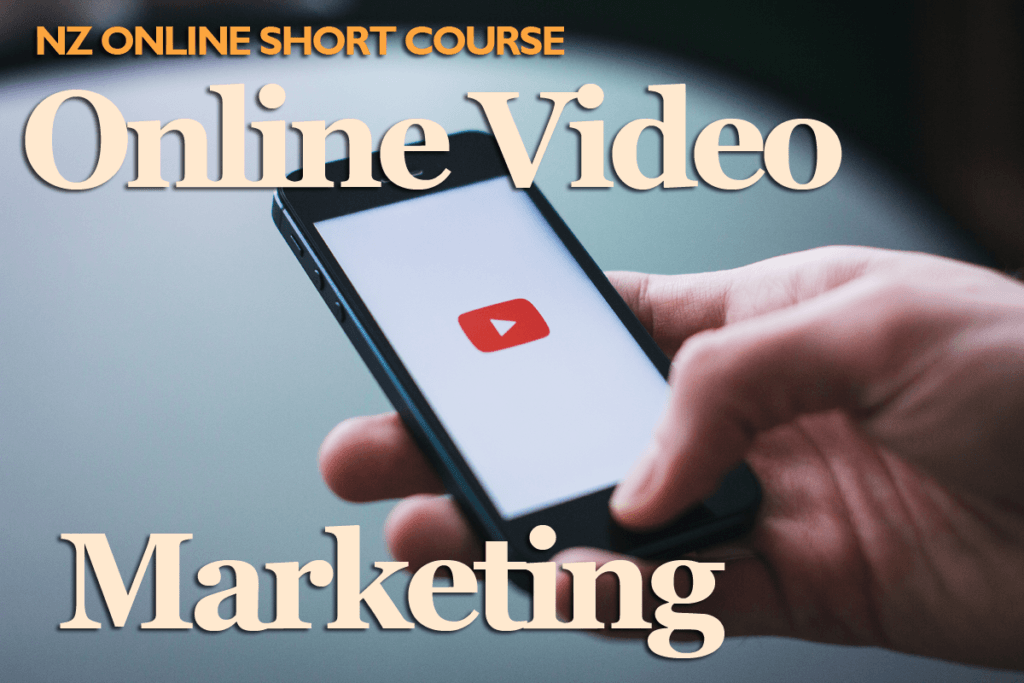 As you'd expect given the name of this course, that's what it's all about. It's a four-part short course designed to bring you up to speed on online video marketing.
This course, on the other hand, covers online video as just one of its topics as it delves into the most important social media developments of 2017.
For more details of the Social Media Essentials course, please click here.