We are now gearing up to release the presentation NZ Content Marketing 2017, on Monday July 3. This is the newest presentation in our New Zealand Marketing Insights series, which began last month with our NZ Consumer Trends 2017 presentation.
We just wanted to let you know a little more about it — and also let you know about a special hot offer, only available until Friday June 30.
Content Marketing 2017 was originally scheduled for release later this year, but because it was one of our most popular topics we've bumped it up the publication schedule.
Content Marketing continues to blossom, especially in New Zealand, as more and more brands realise that consumers are doing their own homework online rather than seeking advice from salespeople (who may — how can we put this delicately? — not be entirely objective).
Content Marketing (sometimes called Digital Storytelling) is also, according to a recent US study, one of the top two trends impacting the future of both Marketing and Public Relations.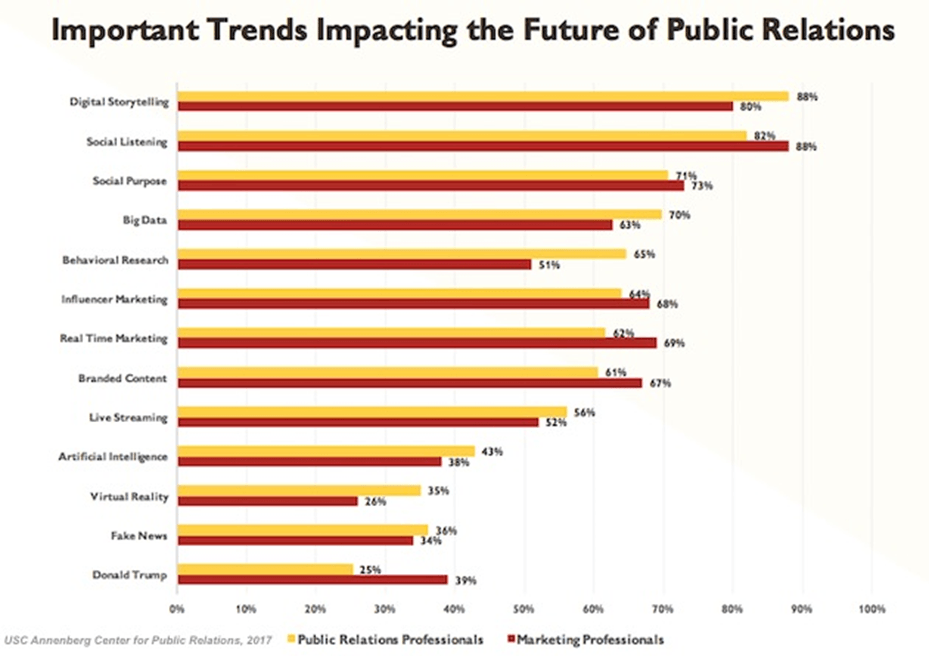 That's why Content Marketing has earned its place as one of the topics we cover in this year's Marketing Insights Presentation Series.
Here's a little taste of what the presentation covers:
The three types of content regarded as most important for effective content optimisation in 2017
The convergence of SEO and Content Marketing and what that means for marketing and communications professionals
Search intents across mobile and desktop, how and why they are different and the implications
The surprising new importance of voice search (and what marketers are doing about it)
What marketers think about artificial intelligence and its importance for the future of content marketing
And:
The power of Nearby and Micro-Moment Marketing
The ubiquitous smart phone continue to change the game. Where once longform content was king, now snackable snippets — served up in answer to queries like "restaurant near me" — have become the new currency. We explore the trend and its implications.
Content Marketing as Defensive Mechanism
So many people are talking — not always positively — about brands and companies online, and organisations don't always get the chance to present their own point of view as part of that conversation. As a result, many are turning to Content Marketing as a means to get their message out there.
Talking to Your Own
Content marketing has also seen itself become an internal PR tool, used to communicate in a planned and more effective manner with staff, dealers and suppliers. How are you ensuring that your own people know what they should about your organisation?
Overcoming "Content Shock"
Even when marketers do invest in Content Marketing, there are challenges. One of the biggest challenge: getting heard out there, amongst the ever-increasing cacophony of social media posts, blogs, video and all. It's been dubbed "Content Shock" — and we look at how to deal with it.
Content Will Get useful or Get Ignored
Smart marketers will begin to invest in bigger content projects such as creating free and robust online tools, writing the go-to books in their industries, and creating environments where their customers can build a community to share knowledge
Accountability
content marketers will be held accountable not just for how much content they create, but what it does for the business (much like demand generation teams).
Other topics that will feature in this presentation include:
Personalisation
Engagement
Data-driven Insights
Interactive Experiences
Face-to-face Opportunities & Live Events
challenges of developing engaging visual content
the talent shortage
Algorithm-driven content distribution
Live video
compelling content experiences
the emergence of AI journalism
Immersive Content Formats
Science-based content marketing
The rise of the Content Librarian
The continuing rise of paid promotion and the decline of organic reach
NZ Content Marketing 2017 is due to be released on Monday July 3.
The presentation looks ahead at what marketers should expect and plan for in 2017 and 2018 — based on local and global trends you may not yet have had the opportunity to examine — turning those forecasts into a comprehensive report & slide deck in PowerPoint format (with accompanying notes) – information that you can easily present to your team and your clients, bringing everyone up to speed on the latest New Zealand Marketing Insights as we accelerate through what remains of 2017. All presentations are unbranded, so you can add your own branding and comments.
All of our presentations in this Marketing Insights series consist of at least 150 slides, dealing with as many key insights.
SPECIAL OFFER
Each presentation is available to purchase and reuse, for $597 plus GST (with volume discounts available for purchases of multiple presentations).
As noted above, however, we are delighted to offer our NZ Content Marketing 2017 presentation, for just $547+GST, a saving of $50.
To purchase by credit card via PayPal, please click here:

This offer is valid until the end of Friday 30 June.
After that time, the price becomes $597+GST.
BILLING OPTIONS
If you would prefer to pay by bank deposit or require an invoice before making payment, please send an email to [email protected] with details of your request. (The service provider will be shown as Netmarketing Services Limited in your transaction and on your credit card statement).
WHAT HAPPENS NEXT
1. Your purchase will be confirmed by email.
2. On Monday July 3, once the Content Marketing presentation is published, download instructions will be provided to you by email.